How to Schedule Events
Easy Way
If you don't feel you can do it yourself (even with this detailed how-to), you can call or email to ask for help:
If you would like to practice creating an event in a "safe" location, ask the Webmaster (see above for contact information) to create an account for you on the "development" Revere's Riders website. The "development" website is used exclusively for testing purposes and you can do a "dry run" there of creating an event without fear of screwing up the live/production Revere's Riders website.
Slightly Harder Way
Step 1: Create a New Event
There are two methods for creating a new Event. The first way is to use the WordPress "admin bar" that is displayed as a black bar at the top of the website when you have successfully logged-in:

Hover over the "+New" text in the WordPress "admin bar":

and then select "Event" from the drop-down menu.
The second method is to hover over the Revere's Riders text in the WordPress "admin bar" until the drop-down menu appears:

and then choose "Dashboard". Once at the dashboard, there will be a list of website management "sections" vertically down the left-hand side of your browser window:

Hover over the "Events" section and then choose "Add New" from the fly-out menu that should appear.
Step 2: Select the Event Template
ALWAYS USE THE TEMPLATES!
Templates have been created for Rifle 125 (Basic Rifle), Rifle 262 (Field Rifle), Rifle 223 (Carbine), Rifle 262 (Field Rifle) – Atterbury Specific, Whittemore Weekend, CMP Rimfire Sporter Match and Pistol 100 (Basic Pistol) events. We have transitioned to generic templates for both 1-day and 2-day events; once you have loaded a template to your event, you can customize as needed for a 1-day or 2-day event. We will be creating templates for the other Revere's Riders events as they come up. Using the templates will help ensure that all relevant information for the event is entered.
Select the template for your type of event from the "Advanced Content Templates" section on the right-hand side your browser window: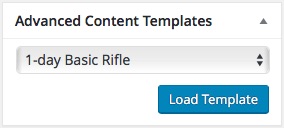 Step 3: Enter Event Title & Description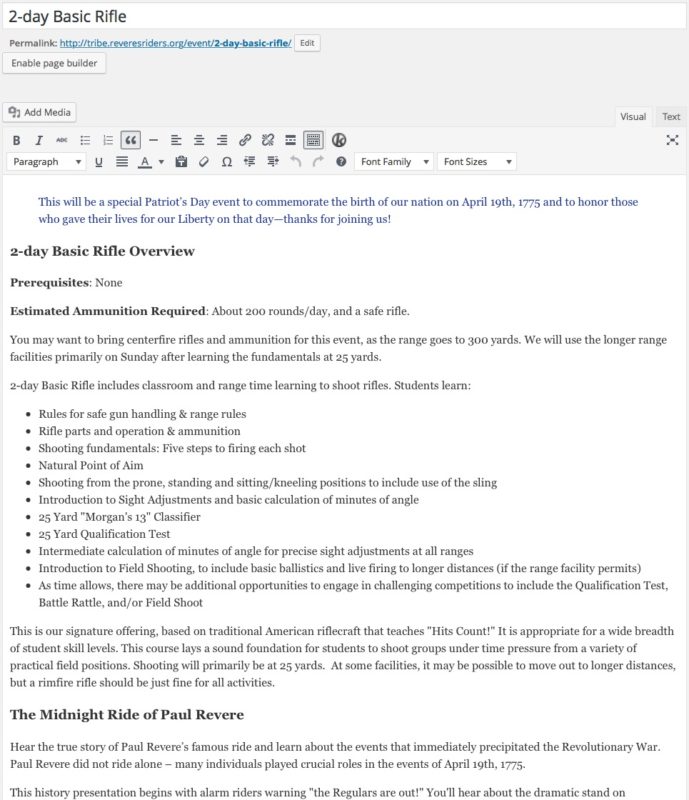 Once the event template has been loaded, you will need to make a few tweaks:
the title should be in the format "Event Type (City/Town, State)". So, for example, if this was a 2-day Basic Rifle event in Anywhere, IN the title should be "2-day Basic Rifle (Anywhere, IN)".
the "permalink" (the URL for the page) should be in the format "year-month-day-city-state". So, if our 2-day Basic Rifle event in Anywhere, IN will be held from April 1-2, 2016, the permalink should be "2016-apr-1-2-anywhere-in" (use 3 letter month abbreviations).
edit the event description as needed. Keep in mind that the event venue will have information associated with it such as directions, whether center-fire is allowed, etc. that need not be duplicated in the event description. However, feel free to add other event specific information as required.
Step 4: Specify the Event Date(s)/Time(s)

Enter the start date & time and the end date & time. Don't forget to set the timezone if different from Indianapolis, IN (EST/EDT) so the right times are displayed on the website.
Step 5: Choose the Venue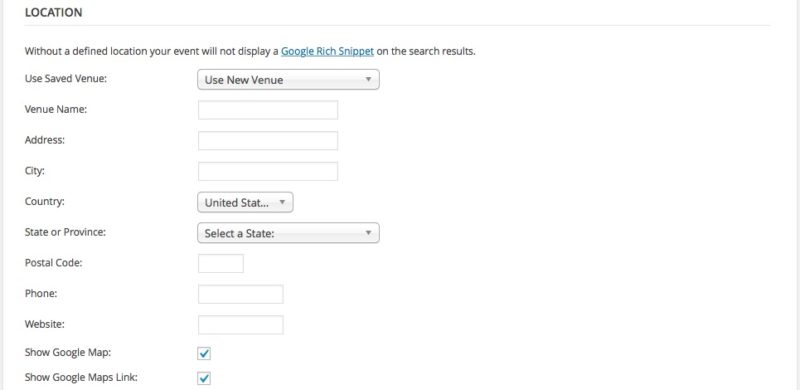 In general, you will want to choose the event venue/location from the drop-down list ("Use Saved Venue:" field).
What if your venue/location doesn't appear in the drop-down list? There are two possibilities:
this is a non-shooting event. You can manually enter the venue/location details in the fields provided.
this is a live-fire event.

STOP!

All shooting ranges must be approved by a Revere's Riders officer before events can be scheduled there. See How to Add a New Range for information on requesting a new range.
Both the "Show Google Map" (shows a nice Google map of the event location) and "Show Google Maps Link" (makes it easy for website visitors to click a link to the full Google map and get directions) checkboxes should be checked.
Step 6: Choose the Organizer

Choose the event organizer from the drop-down list ("Use Saved Organizer:" field). Note that this information is displayed to website visitors, so if the organizer for your event isn't already loaded make sure you know how the organizer wants to be listed (their real name versus their "handle") and what email address to use. Email addresses are "obfuscated" on the website to help deter harvesting by spammers.
In general, we don't include phone numbers here for obvious reasons.
Step 7: Create the Tickets

First, select the image displayed for the ticket within the email that the buyer will receive (this image does not appear on the website, just in the email that ticket buyers receive). Click the "Select an Image" button and then choose the image named title_event_ticket.png from the WordPress media browser (it might be easiest to use the search function and enter the text "ticket" or similar).
In most cases, you will want to check the "Enable global stock" which will allow you to specify a global limit to the number of tickets for sale. This could correspond to the number of firing positions on the firing line, for example.
Leave the "Hide attendees list on event page" checked so we don't advertise the names of event attendees on the website.
At this point, click the "Add new ticket" button to add the actual tickets: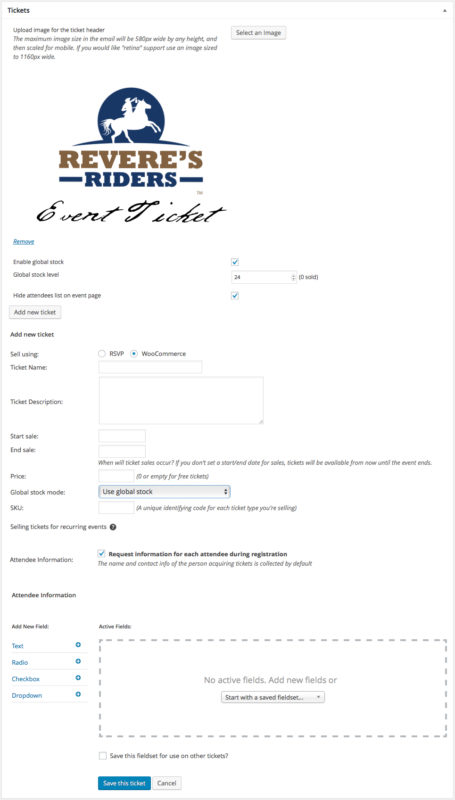 There are several options for each ticket:
"Sell using"—always set this to "WooCommerce" even if the event is free. This makes for uniform data collection and functionality.
"Ticket Name"—use our standardized ticket names here:

"Early Bird—Event Type (Month, Date(s), Year [City/Town, State])"
"General—Event Type (Month, Date(s), Year [City/Town, State])"
"Late—Event Type (Month, Date(s), Year [City/Town, State])"
"Discounted—Event Type (Month, Date(s), Year [City/Town, State])"
Examples of this format would be: "General (April 1-2, 2016 [Anywhere, IN])" and "Discounted (April 1-2, 2016 [Anywhere, IN])"

"Ticket Description"—use the following standardized ticket descriptions:

"Early Bird Admission (Before MM/DD/YYYY). Please sign up early to help us ensure we have sufficient volunteer coaches and supplies on hand. You'll get a discount and it helps us be fully prepared!" for the early bird admission ticket(s).
"General Admission" for the general admission ticket(s).
"Late Admission (After MM/DD/YYYY)." for the late registration ticket(s).
"Discounted Admission for [Youth, Teachers, Military, LEOs, Elected Officials, etc]. Credentials may be requested upon check-in." for the discounted ticket(s).

"Start Sale"—if you want to set a specific on-sale date for these tickets, enter it here. If tickets are to be available for sale immediately, you can leave this field blank. Generally, this field can be left blank.
"End Sale"—set the last date for which tickets are available for sale. This will generally be a day or so before the actual event. Our general practice has been to set this for 5:00PM on the Friday before the event.
"Price"—enter the ticket price. For free events, enter "0" (zero). Our standard event pricing is as follows:
2022 Event Pricing Guidelines

TWO DAY
ONE DAY
HALF DAY
General
Early Bird
Late
Discount
General
Early Bird
Late
Discount
General
Early Bird
Late
Discount
Basic
$80
$60
$100
$40
$60
$50
$70
$30
$45
$40
$50
$20
Intermediate
$150
$130
$170
$75
$100
$90
$110
$50
$50
$45
$55
$25
BB Gun Range/Youth
Generally Free (donations or range fees only)
"Global Stock Mode"—you have several options here that control how the number of tickets of this type sold affect the global stock level:

"Independent (do not use global stock)" allows you to sell tickets which do not count against the global stock level. In the future, we will use this feature to enable online volunteer sign-ups for events. Currently, this option is likely not relevant.
"Use global stock but cap sales" allows to sell a limited number of tickets that count against the global stock. You might use this option if there is an early purchase incentive (e.g., sign-up 1 month early and receive a $5 discount).
"Use global stock" will be appropriate in most cases.

"SKU"—can be left blank.
"Attendee Information"—make sure that the "Request information for each attendee during registration" is checked as we collect important additional information for each attendee.
"Active Fields"—click the "Start with a saved fieldset…" drop-down and choose "Participant Information" (our standard set of additional attendee questions) or "Camp Atterbury Participant Information" if the event is to be held at the Camp Atterbury Joint Maneuver Training Center in Indiana. If you need to ask additional questions of the attendees, you can add those in addition to the standard questions.
"Save this fieldset for use on other tickets?"—you can check this box if you have modified the standard list of questions and believe they may be useful for another future event. Once saved, the new "fieldset" will become available from the "Start with a saved fieldset…" drop-down in the same way as the standard questions.
Once you have entered all the above information,

you must click "Save this ticket" before proceeding on to creating additional tickets

. Additional tickets can be added by clicking the "Add new ticket" button.
Step 8: Set the Event Excerpt

Each event should have an "Excerpt" (short versions of the event description that are used when lists of multiple events are displayed). The standard format for the excerpt is: "Event Type event at the Venue near City/Town, State". Where Event Type is 1-day Basic Rifle, 2-Day Basic Rifle, etc., Venue is range or event location and City/Town, State is the nearest city/town of consequence.
Step 9: Set the Event Category and Tags

Categories and Tags allow for categorization of events both for use by website visitors and ourselves in sending email campaigns and looking at historical event data.
For the event Category you will want to choose the category that corresponds to the type of event being hosted and where it is being hosted ("Events in …"). In general, these should already be defined but in the rare case where you need to add a new event category you can do so by clicking the "+Add New Event Category" link (please don't add a new category lightly; we want to keep a focused list of categories).
For the event Tags you will want to choose the tag that corresponds to the event length ("One Day", "Two Day", "Half Day"). We also have a few specialized tags: "Camp Atterbury", "YHEC", "Youth Only", "Ladies Only". Feel free to add any additional tags that are appropriate or to add a new tag if necessary (adding new tags is not as big a deal as new categories, but make sure that the tag is relevant and meaningful).
Step 10: Set the Featured Image

Each event should have a featured image associated with it. You can choose any image you like from the WordPress media gallery or you can upload your own image.
There is a selection of quite a few featured images already loaded to the WordPress media gallery; simply type "featured" into the media gallery's search box to get a list.
If you upload your own image keep the following in mind:
featured images are preferably 1280 pixels in width. This allows the image to span the entire width of the event text area.
if your image is less than 1280 pixels, you have a couple of options:

if it is at least 1024 pixels in width, go ahead and use it as is.
resize the image in an image editor to be 1280 pixels wide. This will generally work out fine for images of 800 pixels wide or greater; trying to resize an image smaller than this will likely produce poor results.

please refrain from uploading an image at full resolution (anything greater than 2,000 pixels or so in either dimension)

. The additional resolution is not useful for display via a web browser and the images take up additional space on our server as well as adding to our bandwidth usage.
prefix the filename of your image with "featured_" and then add a few underscore-delimited words to describe the image (e.g., featured_rifle_nashville.jpg). This makes reuse of old featured images much easier by allowing a search in the media gallery on the word "featured".
Step 11: Save the Event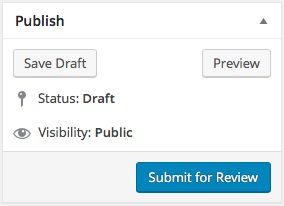 Once you have completed all of the above steps, you should click the "Submit for Review" or "Save Draft" buttons in the right-hand column (depending on your assigned user role, you may be able to "Publish" the event). "Save Draft" simply saves your work so you can come back to it again later; also, it is not a bad idea to occasionally click "Save Draft" while you are working even though WordPress will perform an auto-save for you periodically. "Submit for Review" finalizes the event and you can notify the Event Director or Revere's Riders officer to formally publish the event so it is visible on the website.
Step 12: Assign the Product Category
After you have saved your event, go to the "Products" section of the dashboard and find the tickets you just created:
Once you have identified your tickets (this should be easy since you used the standardized ticket naming scheme, right?), click on the checkbox next to each ticket. Then, from the "Bulk Actions" drop-down at the top of the product list, choose "Edit" and then "Apply" which will allow you to perform a simultaneous edit on each of the tickets for which you clicked a check-box: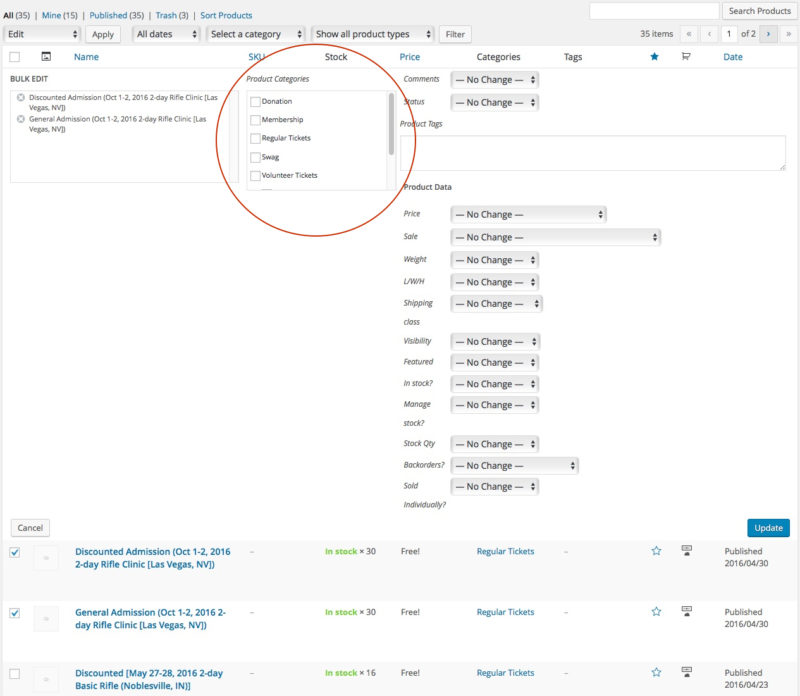 In the "Product Categories" box, select the appropriate category:
Regular Event Tickets—use this category for "regular" event tickets (Rifle 125, Rifle 223, Rifle 262, Pistol 100, Whittemore Weekend). These tickets are eligible for the following discounts:

Sustaining Member discount (i.e., Bronze, Silver, Gold, Platinum memberships)
Revere's Riders volunteer/instructor discount (free)

Special Event Tickets—use this category for "special" event tickets (Camp Atterbury "Pop-Up" Pistol). These tickets are eligible for the following discounts:

Revere's Riders volunteers/instructor discount (50%)

Non-Discounted Event Tickets—use this category for "non-discounted" event tickets where everyone pays full price (e.g., events like Pistol 145 where we have a MOU with a 3rd-party instructor to run the event)
It is crucial to complete this step as assigning tickets to the correct product category determines what (if any) automatic discounts are applied to the ticket pricing.
Step 13: There is no Step 13!
You are done! However, it is always a good idea to double-check your work by viewing the event on the website and making sure that everything is displayed correctly and that the information you have entered is correct. You can easily do this by clicking the "Permalink" at the top of the page editor just under the title field (yes, it is a clickable link!).