Marksman Match: CMP Service Rifle & NRA AR Challenge (Las Vegas, NV)
May 21, 2017 @ 8:00 am

—

11:45 am

PDT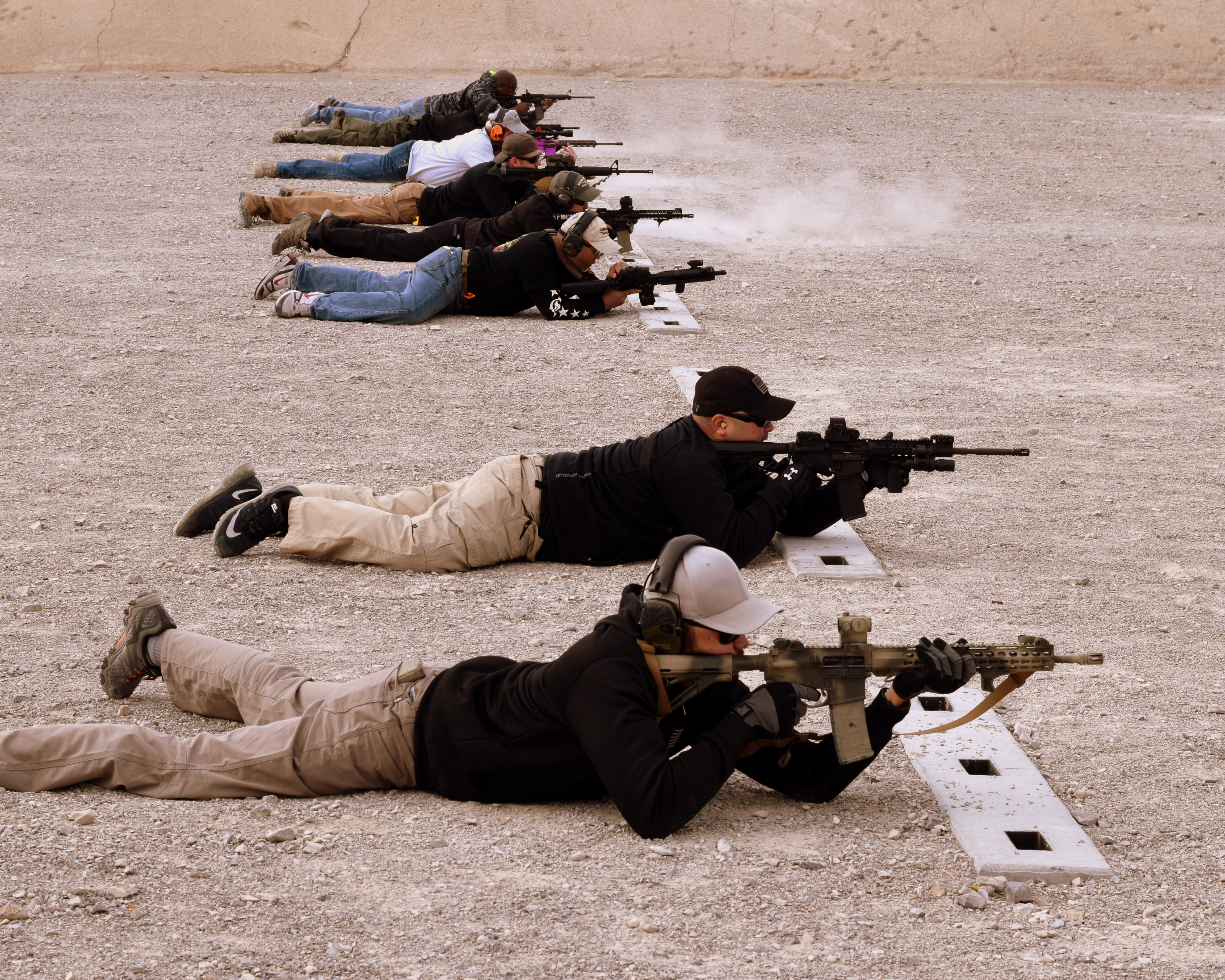 Marksman Match Overview
Prerequisites: None.  There will be no formal instruction at this event but certified instructors will be on hand to assist with zeroing, sighters, etc during the warmup period.
Eligibility:  Open to all eligible participants. You need not be a member of the NRA or a CMP affiliated club to participate.  Participants will have to sign a liability waiver.  No more than 12 entries are permitted for this event.
Estimated Ammunition Required: 100 rounds — 15 rounds (warmup), 50 rounds (CMP Service Rifle), 25 rounds (NRA AR Challenge), 10+ sighters (more if desired).
Rifle Match Overview
This event includes a CMP Service Rifle and NRA AR Challenge event.  This is the course of fire:
Sighters (0800-0845): The range will be open from 0800-0845 for sighters and individual warmup.
Check-in, Safety, and Course of Fire Brief (0845): Please arrive on time so we can start the match on time.
Service Rifle (0900): We will fire the Short Range National Match course of fire at a distance of 100 yards.  This course of fire includes both rapid and slow fire in the standing, kneeling/sitting, and prone positions.  Please refer to the CMP rulebook Table 7 for a review of the course of fire.
NRA AR Challenge (1030):  We will fire a NRA AR challenge Basic Match event.  This course of fire includes rapid fire from 7-100 yards in the standing, kneeling, and prone positions.  If you only intend to fire this match, arrive by 1015 to check-in and receive a safety brief.
Equipment Requirements
CMP Firearms:  NRA & CMP's 2017 rules allow a wide variety of rifles to be used at these events.  For the CMP portion, firearms will be classified into one of the following classes IAW Chapter 6 of the CMP rules:
M16/AR-15 Service Rifle: Most AR-15s with an optic below 4.5x (or iron sights), a standard A2 grip, a trigger with pull weight greater than 4.5 lbs, and a standard charging handle now qualify in this category.  Slings must be mounted no more than 13 inches forward of the mag well.
Alternative Rifle: For our friends in California, CMP is allowing variant rifles chambered in 5.56 using optics <4.5x or iron sights.  Review rule 6.1.2 for details.
M14 Service Rifle or M1 Garand Service Rifle: IAW Rules 6.1.3 and 6.1.4.
Match Rifle: Nearly all rifles chambered between 5.56 and .308 are eligibile IAW rule 6.1.5.
Other Rifles: We will allow other rifles to be fired for practice, fun and bragging rights but scores with non-eligible rifles will not be reported to CMP.
NRA Firearms:  For the AR Challenge portion, nearly any semi-automatic magazine fed rifle with a sling will be suitable.  Classes exist for shooters using iron sights, any single optic, and multiple optics.
Multiple Rifles:  You may use two different rifles (one for each event), but you must use the same rifle for the entire event.  For example, you can use Rifle A for the entire CMP event, then switch to Rifle B for the NRA event.
Other Equipment:  Bring a shooting mat, blanket or carpet scrap if you have one.
Other Details
Rules: In accordance with the current edition of the CMP Service Rulebook and NRA AR Challenge Guidebook.  For the NRA AR Challenge, locally developed targets may be substituted for the AR-1.
Prizes:  Shooters reaching CMP Achievement Award scores or NRA AR Challenge thresholds will receive a patch or pin.  Additionally, shooters who score as a CMP "Sharpshooter" (85%) will receive a patch.  Score cutoffs are:
Service Rifle: 476+ (Gold), 465-475 (Silver), 454-464 (Bronze)
NRA AR Challenge: 20/20 + clear bonus challenge (Gold), 19/20 (Silver), 17/20 (Patch)
Service Rifle match scores will be reported to the CMP and competitors will be able to begin accruing credit towards the new CMP classification system.
Contact: Contact Chris Seidler with Revere's Riders at gro.s1558464242rediR1558464242serev1558464242eR@no1558464242igeRW1558464242S1558464242 with any questions.
Match Fees:  Youth, military personnel, and teachers are discounted.  Discounts apply for pre-registration.  Match fee includes all range fees.
Who's Attending
6 people are attending Marksman Match: CMP Service Rifle & NRA AR Challenge (Las Vegas, NV)
Tickets are not available as this event has passed.
---
Wondering What to Bring?

If you are new to our events and not sure what to bring, check out our "What to Bring" and "Suggested Gear" pages.

Don't See An Event Listed?

We have members in over a dozen states and can custom-schedule an event that meets your needs in a convenient location. Please contact us for more information.

Training Event Terms & Conditions

Please see the Training Event Terms & Conditions for important information on attending Revere's Riders events.