COVID-19 Policy
Revere's Riders has made changes to how we run our events in order to align with current CDC recommendations.
Please review our COVID-19 Statement before purchasing event tickets.

Rifle 223 (Carbine) – Two Day (Bedford, IN)
Feb 23, 2019 @ 9:00 am

—

Feb 24, 2019 @ 4:00 pm

EST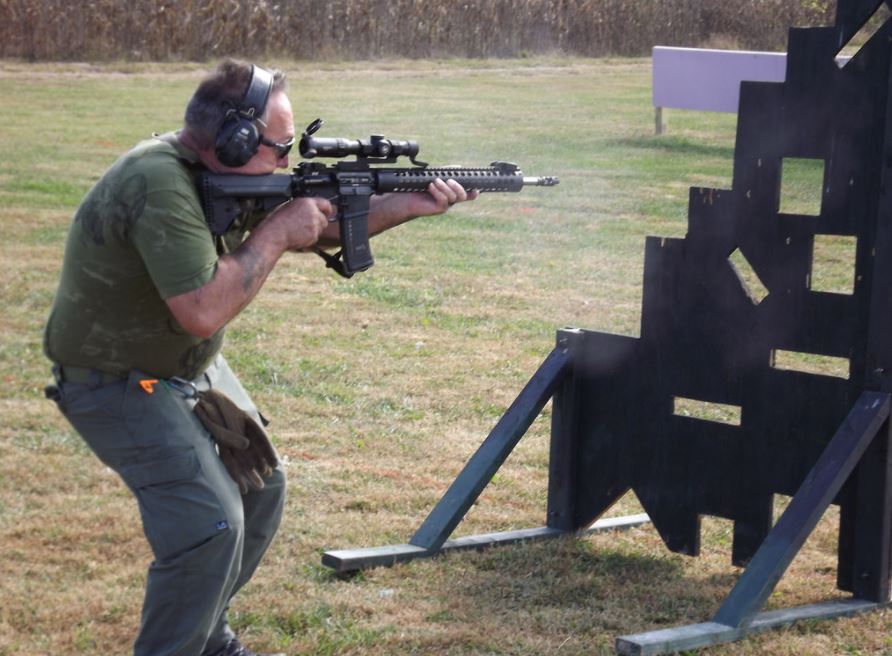 Rifle 223 (Carbine) Overview:
Prerequisites: Suggested—Rifle 125 or similar class.
If you have not attended Rifle 125, then you should be able to reliably hit a 10″ paper plate from the standing position out to 25 yards. You should be familiar with basic operation of your carbine and firearms safety.
Estimated Ammunition Required: 250 rounds/day
Course Overview: This course is conducted as an NRA America's Rifle Challenge clinic and, as such, the AR-15 is an ideal rifle to bring. While this course is named for the common round fired by the AR-15 (".223 Remington") any safe semi-automatic carbine can be used (Mini-14, AK-47, Tavor, etc.). All firing in this course will be within 200 yards with a focus on the close quarters environment. You'll go from basic movements to shooting over & around barricades. You will get a workout with skills needed to run the carbine from in your face to 200 yards, including how to shoot moving targets. Students learn:
Rules for safe gun handling & range rules
Carbine parts, operation & ammunition
Sling Usage
Shooting Fundamentals

Firing Stance: Standing
Five steps to firing each shot
Zero rifles as required

Situational Awareness and Scanning
Rapid Magazine Changes (Tactical Reloads)
Short Range Marksmanship Techniques

Tailoring the five steps to firing each shot to the close quarters environment
Controlled Pairs
Recoil Management

Special Subjects

Zeroing Carbines & Rifles
Carbine Trajectory and Zero Issues
Barricades
Movement
Moving Targets
Use of the sling and field expedient rests to support shooting stability
This class is moderately physically demanding. We will be on our feet much of the day, moving between various positions on the range. We will be shooting from different positions throughout the day. No special equipment needed. A carbine w/sling, two mags and ammo. Run a standard, no frills M-4 with an extra mag in your pocket or wear your favorite plate carrier, helmet and battle belt chock full of mags for your tricked out SCAR. Shooters choice!
The CQB Battle at the Jason Russell House
We'll discuss specifics of this Close Quarters Battle that took place inside a home in the Boston suburb of Menotomy on April 19th, 1775—the very first day of the American Revolutionary War. Hear our history come alive as orators tell the story of several pivotal shots that changed the course of not only this historic battle, but the history of the world!
Additional Event Information
Ticket price includes all range fees, delicious lunch and refreshments on both days.
Additional Range Information
The Bedford Contingent is South Central Indiana's Premier Shooting Facility. Located just north of Bedford, Indiana, "The BC" features a 300-yd rifle range, covered meeting house, and is available year-round for public and private events. Primitive camping available (please reserve ahead of time, donation appreciated), porta-potties and potable water on-site.
Win an Autographed Copy of "Lone Survivor"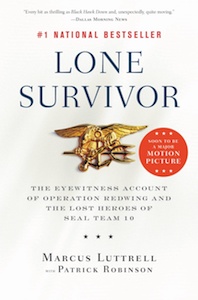 At every Revere's Riders event we tell some of the history of April 19th, 1775 and the Battles of Lexington and Concord, events that occurred over 240 years ago. The spirit of the heroes who gave the full measure of their "lives, fortune and sacred honor" on April 19th, 1775 still lives on in the modern United States military. I doubt Marcus Luttrell needs any introduction to those contemplating attending this event. For those who don't already know his story, Marcus was deployed to Afghanistan in 2005 with Seal Team Ten as a Hospital Corpsman Second Class. He and three other members of Seal Team Ten (Navy Lieutenant Michael P. Murphy, operation commander, Petty Officer Second Class Danny Dietz and Petty Officer Second Class Matthew G. Axelson) were assigned to Operation Red Wings. During the initial stages of Operation Red Wings, the team was discovered by local Afghan goat herders. After determining the goat herders were most likely civilians and not combatants, the team released them according to the ROE ("rules of engagement"). The goat herders would inform the Taliban of the team's position and all but Luttrell would become casualties in the ensuring battle.
Related Events
---
Wondering What to Bring?

If you are new to our events and not sure what to bring, check out our "What to Bring" and "Suggested Gear" pages.

Don't See An Event Listed?

We have members in over a dozen states and can custom-schedule an event that meets your needs in a convenient location. Please contact us for more information.

Training Event Terms & Conditions

Please see the Training Event Terms & Conditions for important information on attending Revere's Riders events.