3rd Annual Marty Brown Memorial Invitational (Edinburgh, IN)
Nov 16, 2019 @ 8:00 am

—

Nov 17, 2019 @ 5:00 pm

EST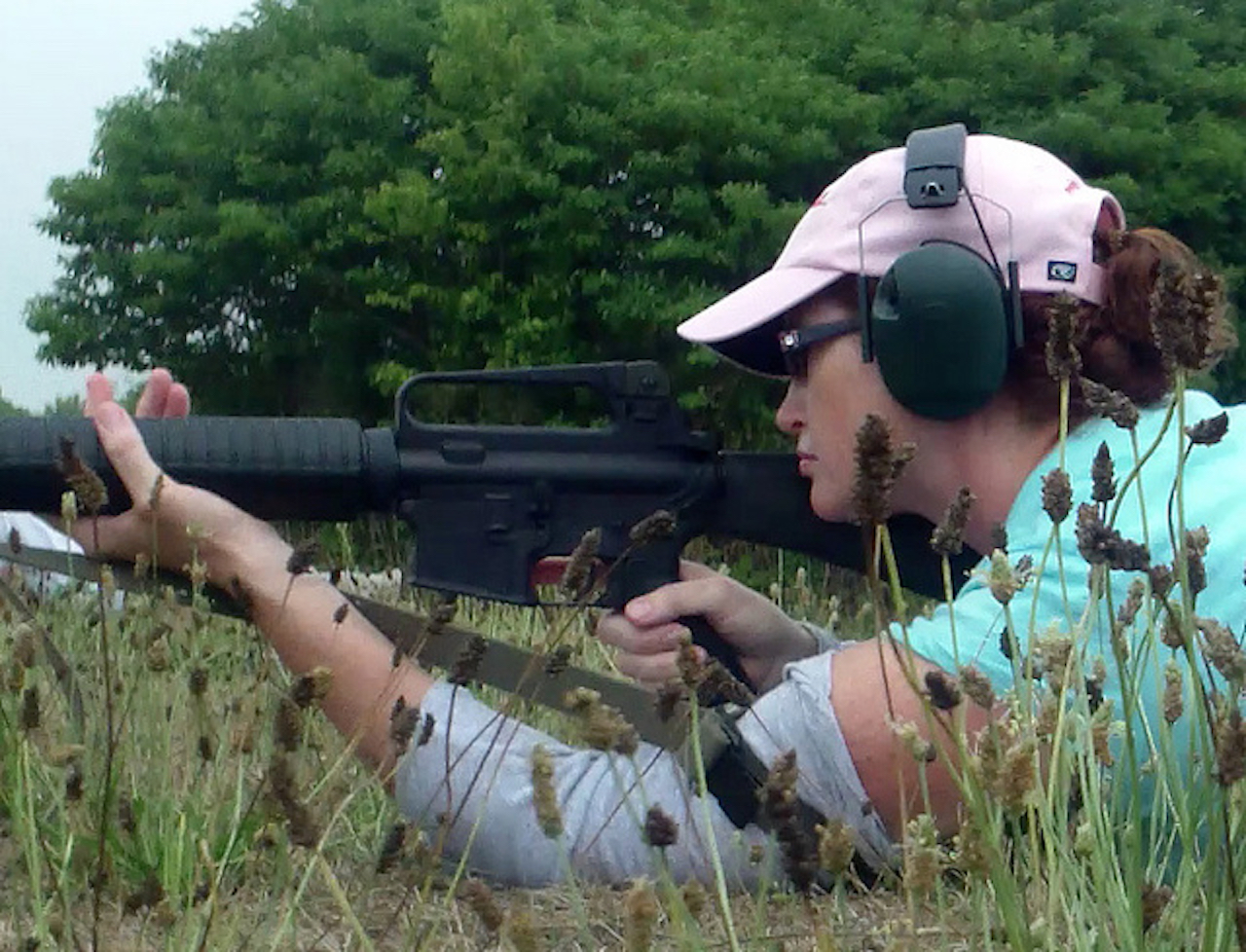 THIS EVENT IS BY INVITATION ONLY. If after reading the event description, you would like to participate, please contact the Event Director to request an invitation.
Marty Brown Memorial Invitational Overview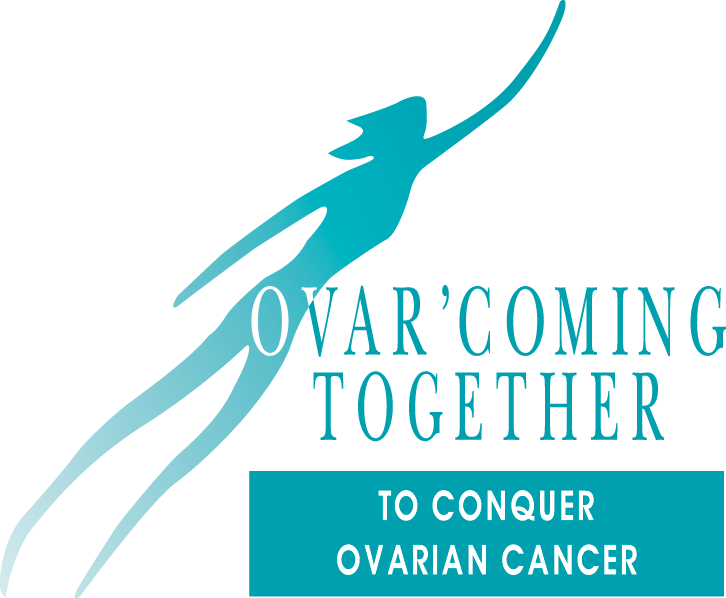 The Marty Brown Memorial Invitational™ rifle match honors Marty Brown, an instructor with Revere's Riders who lost a 40-month battle with ovarian cancer in 2017. 50% of ticket revenue (after deduction of range fees and expenses) will be donated to Ovar'coming Together to assist in their programs to support women diagnosed with ovarian cancer as well as funding ovarian cancer research. You can read more about Marty as well as Ovar'coming Together on the Marty Brown Memorial™ page of our website.
The Marty Brown Memorial Invitational™ rifle match is an informal 3-position known distance match shot according to the Revere's Riders Rifle Qualification Test. This is an invitational match and you must be invited to attend. Marksmen will receive an invitation by satisfying one of the following:
shoot a score of Marksman or better on the Revere's Riders Rifle Qualification Test (must be in the same calendar year as the Invitational)
satisfy the Match Director that you are proficient and safe enough to participate
If you believe you meet either of the above criteria and would like to participate, please contact the Event Director using the email address below.
No formal instruction will be provided at this event; however, many participants will be highly skilled rifle marksmen who are usually willing to help in any way they can provided doing so doesn't detract from their own enjoyment or participation in the event. In general, if you can "shoot a score" in the 25-yard Revere's Riders Rifle Qualification Test you have the necessary marksmanship skills to participate in this event.
Swag Bags, Give Aways, Skills Contest and Silent Auction
Dozens of companies in the firearms industry and others have donated items in support of this event and our mission to raise money for Ovar'coming Together. We have over
$10,000
in product donations for this event from more than 40 companies.
We will be incorporating these donations into the Marty Brown Memorial Invitational in the following ways:
Details on all these items can be found on the 2019 Marty Brown Memorial Open Swag Bags, Give Aways, Prizes, Auctions page.
MAKE SURE TO BRING CASH FOR SKILLS CONTEST ENTRY FEES!
Match Information and Rules
For general match information and rules, please see the Marty Brown Memorial Invitational Rifle Match Rules page.
Additional Event Information
Ticket price includes all range fees.
Pre-registration is Required
All participants must purchase tickets by the DEADLINE of 5:00 PM on November 1, 2019.  Absolutely no registrations will be allowed after this deadline. The unique venue for this event requires that we share your name and other personal information you submit to Camp Atterbury Joint Maneuver Training Center (CAJMTC), Military Police and the Range Control office. Your information will not be used in any manner other than to allow your admittance to the installation and to contact you regarding this event. Pre-registration is required so that we can forward your information to CAJMTC in time for the event. You are also responsible for reading the below additional range information specific to Camp Atterbury. Please keep in mind that we are using a military facility and military rules and discipline are in force.
Refund Policy
Event will be held RAIN or SHINE!
Camp Atterbury is an active military installation, as such we may have our scheduled access removed as late as the day before the event. Refunds will only be issued for this event due to cancellation of the event by military authorities. Absolutely no refunds will be given for any other reason.
Additional Range Information
Arrival Time
You MUST Arrive On Time
Plan to arrive NO LATER than 7:45AM. Anyone arriving later than this will not be allowed to participate in the event and your event fees will not be refunded. This is due to the need to meet at Range Control and proceed to the range as a group. We will not wait for you; plan to be early.
Base Firearms Policy
CAJMTC firearms policy—NO LOADED FIREARMS PERMITTED ON BASE. Concealed carry is NOT ALLOWED on base; you may only load a firearm while on a designated range. Before you proceed to to the base entrance and attempt to pass through security, make sure that all firearms in your vehicle and on your person (don't forget your concealed carry sidearm) are unloaded, in a secure case and separated from your ammunition. This is generally Indiana state law (see IC 35-47-2-1). If you are refused entry to the base for any reason, your event fees will not be refunded.
Directions to Range Control
You will be required to pass through the Camp Atterbury main gate to access the military side of the base. When asked, tell gate security that you are there for the Revere's Riders event along with any other information gate security requests. IMPORTANT—do NOT attempt to go to the range on your own. There are numerous ranges at Camp Atterbury and any number of them can be "hot" at any given time. There are ranges for pistols, rifles, artillery as well as strafing (witnessing an A-10 Warthog engaging in a strafing run is awe inspiring from a distance); some of the ranges involve firing over roadways (if the range is "hot", these should be blockaded, but better safe than sorry). Wandering onto any of these ranges while they are "hot" could lead to a VERY bad day. Range Control is reached by continuing south on the entrance road (Eggleston Street). Range Control will be on your left just before County Road 900 South. Himsel Airfield will be on your right just beyond the intersection of Eggleston Street and CR 900 S.
The route from the Camp Atterbury main entrance to Range Control is highlighted in red on the map below: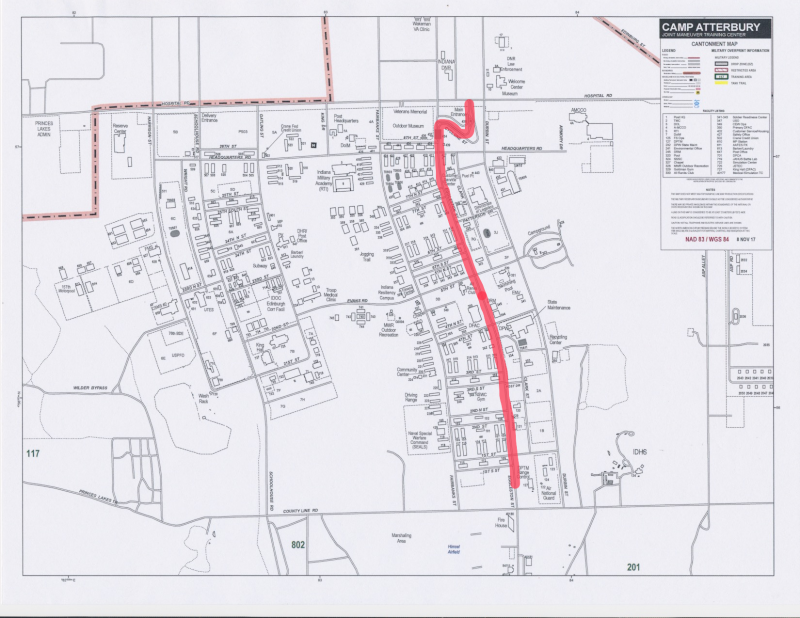 Overnight Accommodations
Civilian lodging is available on base for those who wish to stay overnight. Standard rooms with shared bathroom are $33/night and Deluxe rooms with private bath are $38/night. For reservations, call the Camp Atterbury Lodging Office at 812-526-1128. Let them know that you are with Revere's Riders.
Generally, on-base lodging at Camp Atterbury will be in one of buildings 518-523 on Headquarters Road between Gatling Street and King Drive. Be aware that there are other buildings on base that are used for civilian lodging as well, so your room may be elsewhere. Verify the location of your room with either Camp Atterbury Lodging Office or security at the base entrance if you arrive after 4:00PM.
The location of buildings 518-523 is highlighted in green on the map below: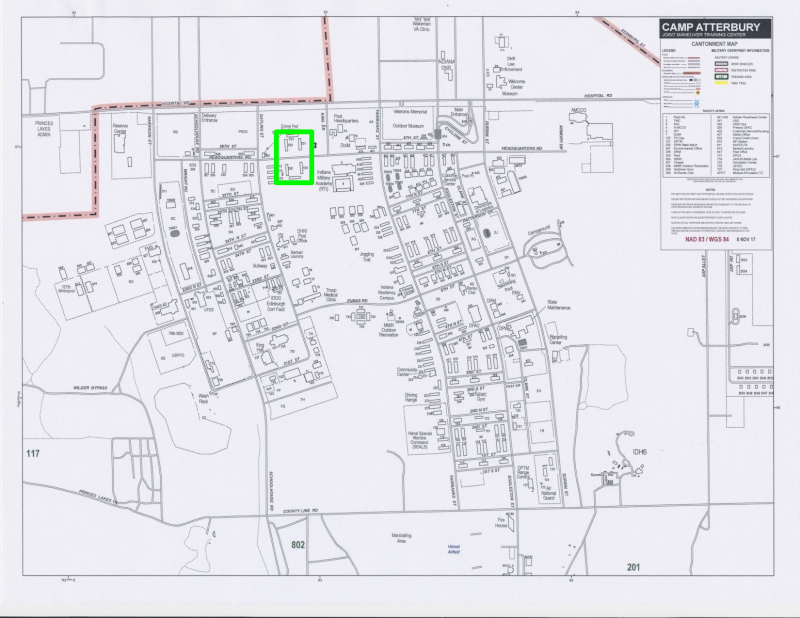 Event Sponsors
We would like to thank the following event sponsors for their generosity in helping to make this event possible.
Related Events
---
Wondering What to Bring?

If you are new to our events and not sure what to bring, check out our "What to Bring" and "Suggested Gear" pages.

Don't See An Event Listed?

We have members in over a dozen states and can custom-schedule an event that meets your needs in a convenient location. Please contact us for more information.

Training Event Terms & Conditions

Please see the Training Event Terms & Conditions for important information on attending Revere's Riders events.