CIHPRS "Across The Course" Marksman Match – 1/2 Day (Camp Atterbury, IN)
Apr 24, 2021 @ 1:00 pm

—

5:00 pm

EDT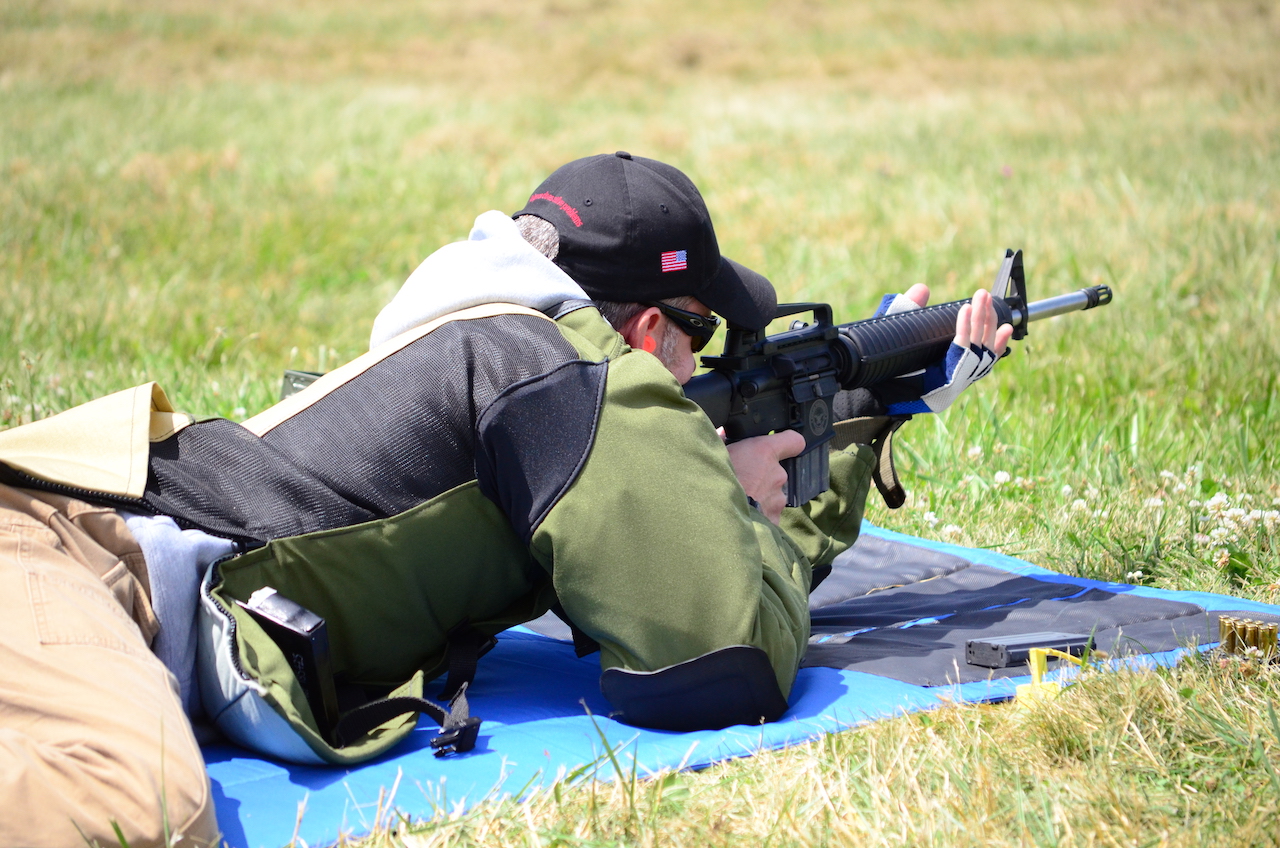 CIHPRS "Across The Course" Match
Prerequisites: Suggested — Rifle 125* or previous experience with CMP, 3-Position Highpower or NRA disciplines. You will be expected to have at least a rudimentary understanding of compensating for bullet trajectory at distance via scope or sight adjustment (i.e., "come ups").
If you cannot consistently hit a 5″ circle at 100 yards from the prone position, or if you are unfamiliar with the standing/seated/prone positions and sling usage, you will be frustrated at an "Across the Course" match.
Estimated Ammunition Required: Bring 100-200 rounds.
Ammunition should be of "match" quality and all of the same manufacturer and "loading" (i.e., bullet weight, bullet type and muzzle velocity). If possible, bring a sufficient supply of the exact same ammunition as this will simplify getting "DOPE" for your rifle and ammunition.
Generally, ammunition loaded with heavier bullets of higher "ballistic coefficient" are preferred. For example:
5.56×45mm/.223 Remington

69gr or heavier ammunition

 will work quite nicely
avoid M855/SS109 62gr and M193 55gr ammunition as these are known to not be particularly accurate

.308/7.62×51mm and 30-'06
Ammunition loaded with bullets lighter than the above recommendations will work in a pinch if that is all you have; just be aware that the lighter and lower "ballistic coefficient" bullets will get blown around by any wind to a much greater extent than heavier bullets and you may be asked to limit your shooting to 300 yards (or less) if you aren't able to hold a tight enough group to avoid potential damage to the electronic targets.
Steel-core or AP ("armor piercing") ammunition is prohibited due to the likelihood of damage to the electronic targets (e.g., M855).
Rifle Requirements: You will need a safe rifle chambered in a centerfire caliber of .30 or less (rimfire calibers will not be suitable for this event). Appropriate rifles for this event should have the following features:
semi-automatic or bolt-action (note, however, that bolt-action rifles will be at a disadvantage due to the timed course of fire)
fed via detachable box magazine of at least 5 round capacity; leave the 30 round magazines at home as they will be cumbersome in the prone position
ability to attach a loop sling
chambered in a caliber sufficient to keep your bullet supersonic to at least 600 yards:

.223/5.56×45mm such as:
.308/7.62×51mm such as:
30-'06 such as:
6.5 Creedmore such as:

Ruger Precision Rifle (however, note that bolt-action rifles will be at a disadvantage due to the timed course of fire)

multiple other rifles will be suitable provided they are chambered in a cartridge smaller than .338 Lapua (this is a Camp Atterbury restriction); if you have any questions regarding the suitability of your rifle to this event, please contact the Event Diretor

muzzle brakes are NOT allowed

ensure you have a good zero for your rifle (you will be allowed "sighters" at each firing distance, but we will not have time for you to get an initial zero for your rifle)
Note that a .30 caliber rifle will produce more recoil than a .223/5.56 rifle and be more challenging to keep on target; in general, you should bring a .223/5.56 rifle if you haven't shot at these distances before. Most "hunting" rifles are not appropriate as they are typically neither fed via detachable magazine nor chambered in a caliber where the bullet is supersonic out to 600 yards. If you bring a lever-action rifle, rifle with a 3-round internal magazine, etc. you will be frustrated at this event.
For most participants, optical sights of between 2× and 10× power will be useful; variable optical sights with low and high power settings approximately between these two will be ideal. If you have good eyesight, iron sights can be successfully utilized as well.
If you are in doubt as to whether your rifle or equipment is appropriate for the event, please contact the Event Director prior to registering.
Required Equipment: Plan to bring the following:
sling for your rifle (while a US GI sling will work perfectly well for this event, many prefer a more easily adjustable sling)
at least two magazines for your rifle

an iPad, tablet, laptop or similar device with WiFi connectivity (a smartphone will work, but a device with a larger display is preferable)

medium-size backpack to carry your extra ammunition, snacks, etc.

a way to take notes

plenty of your preferred method of hydration (both plain water and something to replace electrolytes you will lose via sweating is ideal)
clothing appropriate for the weather (loose fitting clothing, especially around the neck, is discouraged as hot brass can lodge against the skin and cause a burn)
Optional Equipment: The following equipment is not required but may come in handy at the event:
any "DOPE" for your rifle and preferred ammunition (i.e., scope/sight adjustments needed to compensate for bullet trajectory at distance); if you don't have any "DOPE", then it will be helpful to bring calculated ballistics information using any number of online apps (e.g., Shooter's Calculator) for your specific ammunition
hat with a brim (to deflect flying hot brass)
shooting coat
shooting glove
snacks
sunscreen and/or bug spray
Overview: This event will be run by CIHPRS (Central Indiana High Power Rifle Shooters), a shooting club consisting of high power rifle competitors that regularly run rifle matches at Camp Atterbury.
CIHPRS members will coach you on the following aspects of mid-range rifle marksmanship:
shooting position to include correct sling usage and body position
data collection ("DOPE") for shooting to known distances with your rifle and ammunition
compensation for wind
use of CIHPRS electronic targets (these are the reason for the requirement to bring an iPad, tablet or similar device with WiFi connectivity)
You will be shooting the NRA High Power Rifle "Across the Course" match. This match consists of the following timed stages which are very similar to the Revere's Riders Rifle Qualification Test:
Slow-Fire Standing (200 yards)—5 minutes for prep and sighters, then 10 minutes for 10 shots
Rapid-Fire Seated (200 yards)—5 minutes for prep and sighters, then 60 seconds for 10 shots
Rapid-Fire Prone (300 yards)—5 minutes for prep and sighters, then 70 seconds for 10 shots
Slow-Fire Prone (400 or 600 yards)—5 minutes for prep and sighters, then 20 minutes for 20 shots (only if participants are putting up sufficiently tight groups to avoid damage to the electronic targets)
Initial shooting will be done at the shorter of the two distances; assuming all participants are suitably on target, shooters will be moved to the longer of the two distances. If you are comfortable with the Revere's Riders Rifle Qualification Test, you will have no problem with this course of fire.
Camp Atterbury and COVID-19
The US Army has imposed additional restrictions on activities at military installations due to COVID-19. At present (July 2020), this includes the following:
wearing a mask when indoors (masks will not be required outdoors)
submitting to a screening questionnaire before being allowed on base
We will provide updated information regarding the US Army and Camp Atterbury policies regarding COVID-19 closer to the time of the event.
Additional Range Information
Arrival Time
You MUST Arrive On Time
Plan to arrive NO LATER than 12:30 PM Eastern Time. Anyone arriving later than this will not be allowed to participate in the event and your event fees will not be refunded.
Base Firearms Policy
CAJMTC firearms policy—NO LOADED FIREARMS PERMITTED ON BASE. Concealed carry is NOT ALLOWED on base; you may only load a firearm while on a designated range. Before you proceed to to the base entrance and attempt to pass through security, make sure that all firearms in your vehicle and on your person (don't forget your concealed carry sidearm) are unloaded, in a secure case and separated from your ammunition. This is generally Indiana state law (see IC 35-47-2-1). If you are refused entry to the base for any reason, your event fees will not be refunded.
Directions to Meeting Location—Gate 31
You will be required to pass through the Camp Atterbury main gate to access the military side of the base. When asked, tell gate security that you are there for the Revere's Riders event along with any other information gate security requests. IMPORTANT—do NOT attempt to go to the range on your own. There are numerous ranges at Camp Atterbury and any number of them can be "hot" at any given time. There are ranges for pistols, rifles, artillery as well as strafing (witnessing an A-10 Warthog engaging in a strafing run is awe inspiring from a distance); some of the ranges involve firing over roadways (if the range is "hot", these should be blockaded, but better safe than sorry). Wandering onto any of these ranges while they are "hot" could lead to a VERY bad day.
Once on base, proceed south on the entrance road (this is Eggleston Street and is highlighted in red below). Continue just south of County Line Road/900 S until you reach Gate 31 with Himsel Airfield to your immediate right. You will be met at Gate 31 by event personnel and we will proceed as a group to the firing range. Do NOT proceed beyond Gate 31 on your own as this violates base policy.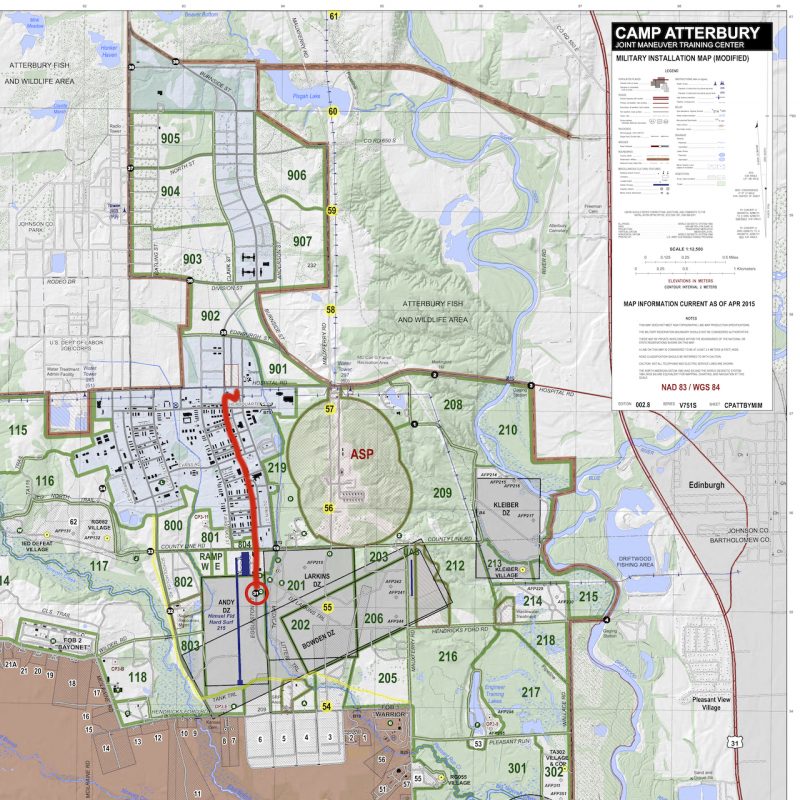 Additional Recommendations
There are some things about shooting at Camp Atterbury that you should be aware of, please read the following carefully:
The elements/weather—the known distance ranges are not sheltered in any way.  Bring what's appropriate for you and the forecasted weather. Layered clothing is best so that you can adjust to the changing temps. Do not bring portable shelter as the firing line will be moving frequently.
Equipment—keep in mind that you will be walking (and carrying all of your equipment) between berms at each distance, and just ask yourself "is this item really worth lugging that far?"
Physical Limitations—you will be moving all your equipment between each firing point, all afternoon. If you have a disability or require assistance to stay on your feet, let us know before signing up and we will try our utmost to work with you.
Hydration—make sure to bring enough water/Gatorade/etc. to stay hydrated. It might be cool early in the day but the wind can take it out of you as fast as the heat.
Food—please bring what food/snacks you need. Power bars or energy bars are your best friend here.
Collecting Brass—we will be policing all of our spent brass per Camp Atterbury regulations. A mesh or light cloth bag or dedicated pocket in your backpack for that purpose is very helpful. Snag an old pillow case when the spouse isn't looking.
Sun Protection—you can get sunburned in the winter.  Sunscreen and chapstick are light and easy to use.
Equipment Preparation—make sure that your rifle is clean and operates properly; if in doubt, have it looked at by a gunsmith or armorer prior to the event. Ensure that your scope or sights are securely mounted and blue locktite was used.
Tickets
Tickets may be purchased at the CIHPRS website:
Related Events