US Army Combat Pistol Qualification – One Day (Camp Atterbury, IN)
Apr 30, 2022 @ 8:00 am

—

5:00 pm

EDT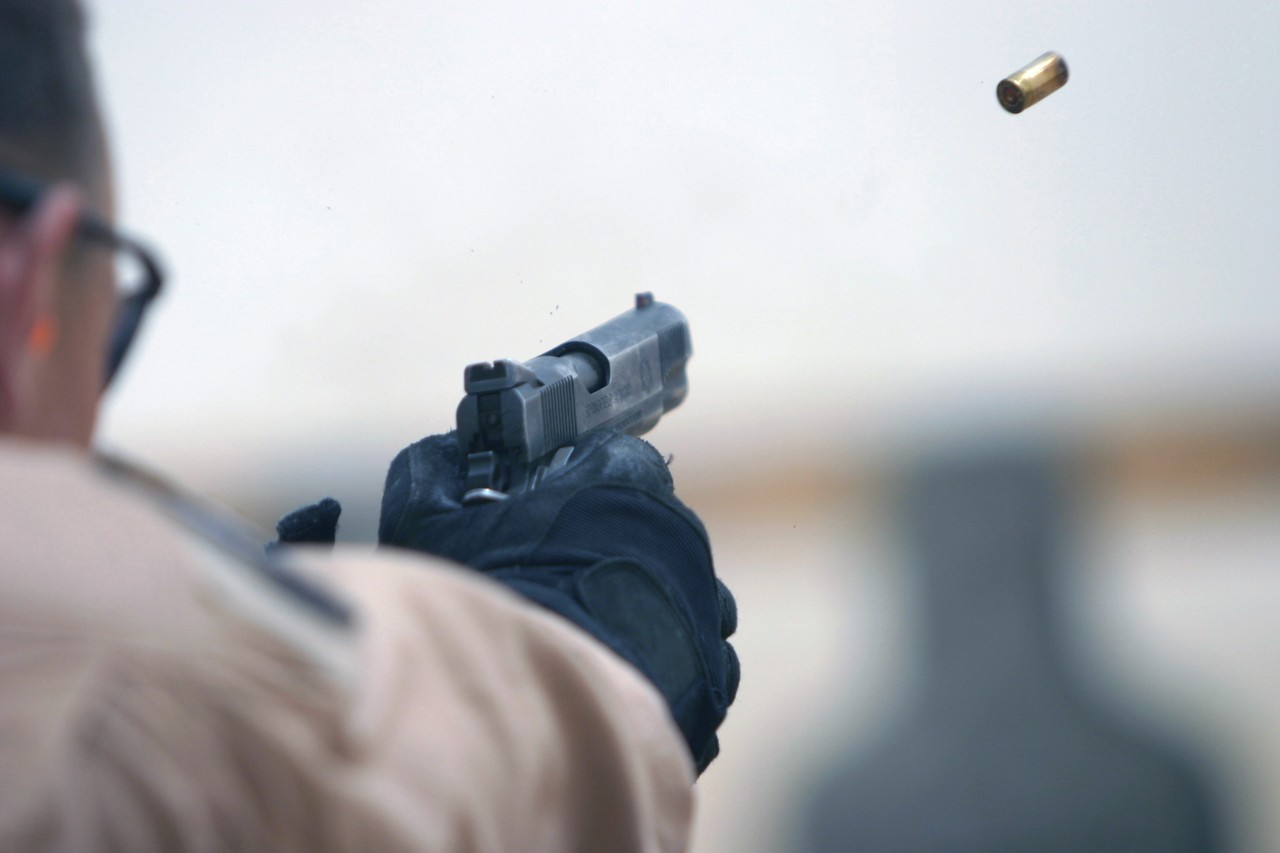 US Army Combat Pistol Qualification Overview
Prerequisites: Suggested—Revere's Riders Pistol 100 (Basic Pistol) or similar. If you plan to draw from the holster at this event, you should have prior training in how to do so safely such as Revere's Riders Pistol 145 (Intro to Defensive Pistol) or similar. This is not an introductory event and involves quickly engaging "pop-up" targets. No formal instruction will be provided.
Pistol and Ammunition Required: A drop-safe pistol (centerfire is recommended but rimfire is fine as well) in any of the following calibers: .22LR, 9x19mm, .38/.357 Magnum, .40 S&W and .45 ACP ONLY. If you bring a pistol chambered in any other caliber, be prepared to be a spectator (this is a Camp Atterbury restriction we are required to follow as civilians on a military base, not a Revere's Riders restriction).
Older single action pistols manufactured before the 1980s and lacking a transfer bar safety are the most common type of pistol that lack drop safe design features, as do some military surplus imports from Eastern bloc countries and Taurus PT-series pistols not fixed during an international safety recall in 2015. These pistols may discharge if dropped and pose a potential safety hazard to our volunteers and students, and are not permitted. If you have concerns about the safety features of your pistol you should have it inspected by an armorer or gunsmith before class.
You should bring, at a minimum, 500 rounds of ammunition (more is always better). Incendiary ammunition is prohibited; otherwise, there are no other ammunition restrictions.
Required Equipment: You will be required to have the following equipment to participate in this event:
drop-safe pistol chambered in .22LR, 9x19mm, .38/.357 Magnum, .40 S&W or .45 ACP
minimum of 500 rounds of ammunition in your pistol's caliber (more is always better)
minimum of 4 pistol magazines (you guessed it, more is better!)
plenty of your preferred method of hydration (both plain water and something to replace electrolytes you will lose via sweating is ideal)
lunch (leaving base for lunch is not feasible)
snacks
Optional Equipment: The following optional equipment may be helpful to you during this event but is not required:
case for your pistol
a towel or other suitable item to place between your pistol and the concrete firing line (if you are shooting from the compressed- or low-ready, you will be clearing your pistol and leaving it on the concrete firing line between courses of fire)
holster, mag carriers and gun belt for your pistol; note that your holster and belt must satisfy the following requirements:

either IWB or OWB (no appendix, small-of-the-back, shoulder, etc. holsters will be allowed)
holster must position your pistol between the 3 and 5 o'clock position on your waist
holster must correctly fit your pistol
holster must completely cover the trigger guard of your pistol
holster must not collapse when pistol is withdrawn
your belt must adequately support the weight of your pistol (this generally excludes nearly all belts not expressly designed for concealed carry use)
event staff reserve the right to deny use of any holster deemed a safety risk

magazine loader (Maglula or similar; you will be loading a LOT of magazines)
folding chair
sunscreen and/or bug spray
a hat with brim to protect from flying brass and the sun
if you wish to collect your own brass, bring whatever containers/equipment you desire for that purpose. All brass not collected by event participants will be collected by us and disposed of appropriately
Prohibited Equipment: The following equipment WILL NOT BE ALLOWED at this event:
any pistol chambered for a caliber other than .22LR, 9x19mm, .38/.357 Magnum, .40 S&W or .45 ACP
holster not meeting the above requirements
Event Details
Camp Atterbury is an active military installation, as such we may have our scheduled access removed as late as the day before the event. As the US Army Combat Pistol Qualification ranges are actively used to qualify military personnel on their sidearms, events utilizing those ranges are the most likely to have schedule changes.
You will engage the official US Army Combat Pistol Qualification COF ("course of fire") plus any other COFs that are loaded to the range control computer systems (unfortunately, we are not allowed to enter our own COFs into the range control computer systems). This COF is as follows:
Stage 1 (1 magazine, 7 rounds)—shooter engages 5 targets presented for 3 seconds each at varying distance
Stage 2 (2 magazines, 1+7 rounds)—shooter engages 6 targets (including one double presentation) for 3-5 seconds each at varying distance; 8 seconds are allowed for the magazine change before the next target is raised
Stage 3 (1 magazine,7 rounds)—shooter engages 5 targets (including one double presentation) for 3-5 seconds each at varying distance
Stage 4 (1 magazine,5 rounds)—shooter engages 4 targets (including one double presentation) for 2-4 seconds each at varying distance
Stage 5 (3 magazines, 1+7+5 rounds)—shooter engages 10 targets (including three double presentations) for 2-4 seconds each at varying distance; 8 seconds are allowed for each magazine change before the next target is raised
This COF presents 30 total targets to the shooter who has 40 rounds in total; scoring is via number of target hits and is categorized as follows:
Expert—26 to 30
First Class—21 to 25
Second Class—16 to 20
Unqualified—0 to 15
New this year: we will be providing all participants with a few dummy rounds in their pistol's caliber. Those wanting an extra challenge can then load their magazines randomly with dummy rounds and run the CPQC COF. The additional time required to reduce malfunctions will provide an additional level of difficulty.
The below video from a previous event at the Camp Atterbury pistol range will give you a good idea of what this event entails:
US Army Combat Pistol Qualification Range
The US Army Combat Pistol Qualification range is designed specifically to accommodate the US Army Combat Pistol Qualification Course (CPQC). Consequently, the range extends "only" to 30 yards; targets are computer controlled and scored. Drawing from the holster will be allowed at this event for those that have the proper holster and can demonstrate a safe draw and re-holster of their pistol.
Those who do not wish to draw from the holster may begin each course of fire from the compressed- or low-ready position.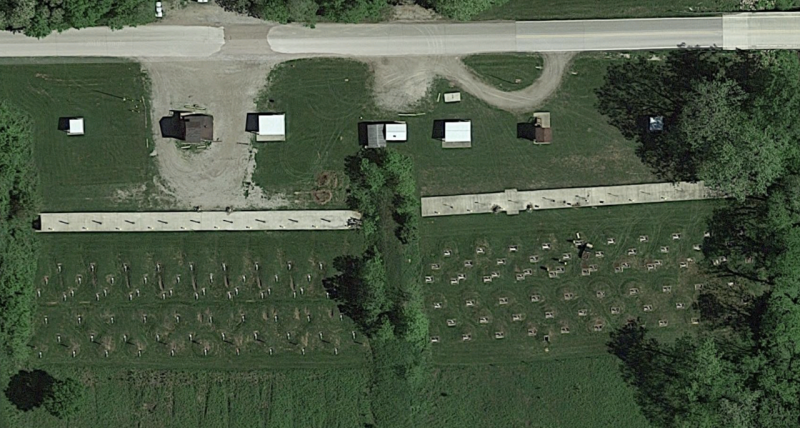 No Formal Instruction
While there will be no formal instruction at this event, experienced firearms instructors will be present and can provide limited instruction as needed. However, this is not a training event and participants should not expect to receive extensive instruction.
Contact the Event Director with any questions prior to registering.
History of Camp Atterbury, Battle of the Bulge, First Lieutenant Samuel Woodfill, Sergeant Alvin York
We will take brief breaks throughout the day to tell some history of Camp Atterbury itself, some of the exploits of the 106th Infantry Division (the "Golden Lions") during the Battle of the Bulge along with the stories of two Medal of Honor recipients: First Lieutenant Samuel Woodfill (who is one of 67 Medal of Honor recipients born in the state of Indiana) and Sergeant Alvin York.
Additional Event Information
Pre-registration is Required
All participants must purchase tickets by the DEADLINE of 1700 on April 23, 2022.  Absolutely no registrations will be allowed after this deadline.

The unique venue for this event requires that we share your name and other personal information you submit to Camp Atterbury Joint Maneuver Training Center (CAJMTC), Military Police and the Range Control office. Your information will not be used in any manner other than to allow your admittance to the installation and to contact you regarding this event. Pre-registration is required so that we can forward your information to CAJMTC in time for the event.
You are also responsible for reading the below additional range information specific to Camp Atterbury. Please keep in mind that we are using a military facility and military rules and discipline are in force.
Refund Policy
Event will be held RAIN or SHINE!
Camp Atterbury is an active military installation, as such we may have our scheduled access removed as late as the day before the event. If that happens (it has not in the past) we will contact all participants to reschedule for a later date or issue a refund. Refunds will only be issued for this event due to cancellation of the event by military authorities. Absolutely no refunds will be given for any other reason.
Additional Range Information
Arrival Time
You MUST Arrive On Time
Plan to arrive NO LATER than 0745. Anyone arriving later than this will not be allowed to participate in the event and your event fees will not be refunded. This is due to the need to meet at Range Control and proceed to the range as a group. We will not wait for you; plan to be early.
Base Firearms Policy
CAJMTC firearms policy—NO LOADED FIREARMS PERMITTED ON BASE. Concealed carry is NOT ALLOWED on base and you may only load a firearm while on a designated range. Before you proceed to to the base entrance and attempt to pass through security, make sure that all firearms in your vehicle and on your person (don't forget your concealed carry sidearm) are unloaded, in a secure case and separated from your ammunition. This is generally Indiana state law (see IC 35-47-2-1). If you are refused entry to the base for any reason, your event fees will not be refunded.
It is recommended that you do NOT inform base security that you have firearms in your vehicle unless specifically asked. It is also recommended that you wait until you are physically on the firing range to load your magazines to avoid any appearance of being "loaded and ready for action" while on-base.
Directions to Range Control
You will be required to pass through the Camp Atterbury "delivery gate" to access the military side of the base (major construction is under way at the "main gate"). The "delivery gate" is at Schoolhouse Road to the west of the "main gate" and there is signage on Hospital Road to that effect.
Base security is now being manned by US Army MPs and they should be treated with the utmost respect. Answer truthfully any questions you are asked; provide any and all identification or paperwork requested (make sure you have your drivers license and proof of insurance with you).
When asked, tell gate security that you are going to "Range Control". IMPORTANT—do NOT attempt to go to the range on your own. There are numerous ranges at Camp Atterbury and any number of them can be "hot" at any given time. There are ranges for pistols, rifles, artillery as well as strafing (witnessing an A-10 Warthog engaging in a strafing run is awe inspiring from a distance); some of the ranges involve firing over roadways; if the range is "hot", such roads should be blockaded, but better safe than sorry). Wandering onto any of these ranges while they are "hot" could lead to a VERY bad day.
There are two acceptable routes to Range Control indicated in blue and red on the map below (note that these are not the most direct routes; Camp Atterbury command has requested all on-base civilian to use these routes to avoid the cantonment areas where Afghan refugees are housed):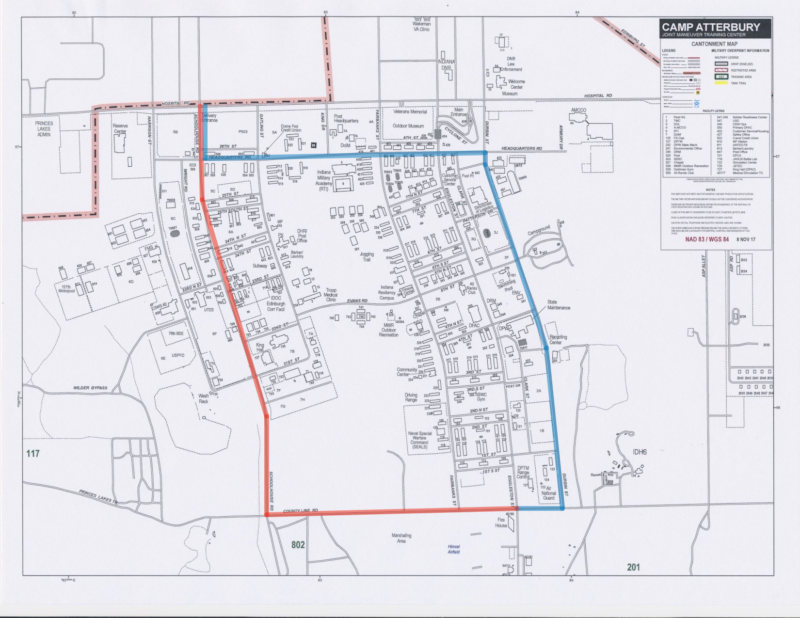 Range Control is located just north-east of the intersection of County Line Road and Eggelston Street diagonally across from Himsel Airfield.
UNDER NO CIRCUMSTANCES should you proceed past any of the placarded gates which indicate entry to the controlled range areas of the base without first checking in with the Event Director at Range Control and obtaining a Camp Atterbury Downrange Pass.
Overnight Accommodations
Civilian on-base lodging is NOT available at this time (again, due to the presence of Afghan refugees). Edinburgh has several hotels/motels nearby should you need lodging:
Win a Camp Atterbury Challenge Coin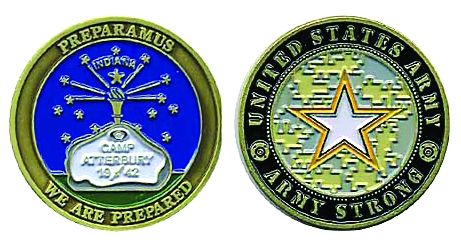 We will be giving away a Camp Atterbury Challenge Coin to one lucky participant at this event.
Related Events