Rifle 223 (Carbine) – One Day (Seelyville, IN)
Jun 18, 2022 @ 8:00 am

—

5:00 pm

EDT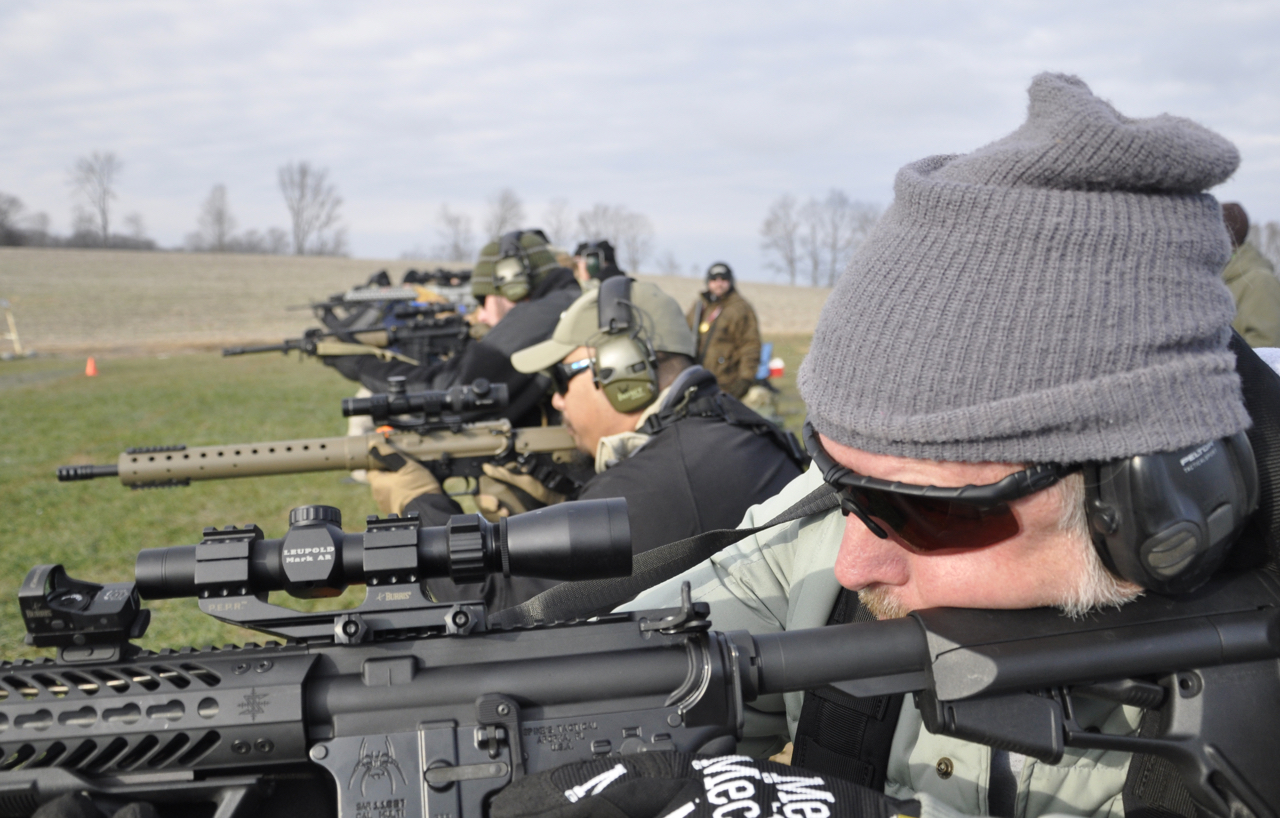 Rifle 223 (Carbine) Overview
Prerequisites: Suggested—Rifle 125 or similar class.
If you have not attended Rifle 125, then you should be able to reliably hit a 10″ paper plate from the standing position out to 25 yards, kneeling at 50 yards, and prone at 100 yards. You should be able to consistently hit a 3×5 index card at 15 yards while standing. You should be familiar with basic operation of your carbine. If you cannot meet the accuracy suggestion then you may be frustrated at carbine class and be better served learning the fundamentals of marksmanship at a Rifle 125 clinic.
Estimated Ammunition Required: 300 rounds/day
Rifle Requirements: This course is conducted as an NRA America's Rifle Challenge clinic and, as such, the AR-15 is an ideal rifle to bring. While this course is named for the common round fired by the AR-15 (".223 Remington") any safe semi-automatic carbine can be used (Mini-14, AK-47, Tavor, etc.).
Required Equipment: Please review our suggestions on appropriate Rifle 223 equipment and plan to bring the following:
at least four (4) magazines for your carbine (more is better)
sling for your rifle (a 2-point adjustable sling is recommended although a 1-point sling will work fine if that is your preference; the US GI sling is probably not ideal for this event)
a way to take notes
plenty of your preferred method of hydration (both plain water and something to replace electrolytes you will lose via sweating is ideal)
Optional Equipment: The following equipment is not required but may come in handy at the event:
case for your rifle
hat with a brim (to deflect flying hot brass)
knee/elbow pads (we may shoot from kneeling and other positions)
folding chair
lunch
snacks
sunscreen and/or bug spray
Overview: Attendees will experience shooting in multiple firing positions at varying distances and will learn modern defensive shooting skills on the AR platform. All firing in this course will be within 200 yards with a focus on the close quarters environment from contact to 50 yards. You will get a workout with all the skills needed to run the carbine from 7-100 yards. At some venues we may work out to the battlesight zero of your carbine (200-300 yards) but the focus is on short range marksmanship. Topics will include the following:
Rules for safe gun handling & range rules
Carbine parts and operation & ammunition
Shooting Fundamentals

Firing Stance: Standing
Five steps to firing each shot
Zero rifles as required

Situational Awareness and Scanning
Rapid Magazine Changes (Tactical Reloads)
Short Range Marksmanship Techniques

Tailoring the five steps to firing each shot to the close quarters environment
Controlled Pairs
Recoil Management

Clearing Malfunctions/Stoppages

Emergency/Speed Reloads
Failure to Fire
Failure to Eject
Double Feed

Special Subjects (most one-day clinics will cover only a few of these — two day clinics will cover most or all)

Zeroing Carbines & Rifles
Carbine Trajectory and Zero Issues
Barricades
Movement
Kneeling Position
Prone Position
Use of the sling to support shooting stability
Natural Point of Aim
Firing from retention
Field Stripping & Cleaning the AR-15
This class is moderately physically demanding. We will be on our feet much of the day, moving between various positions on the range. We will be shooting from different positions throughout the day.
Please contact the event director if you intend to bring a different type of firearm other than an AR-15; we can probably accommodate learning on your preferred platform but want to ensure you will not be frustrated.
The Spirit of 1776
Picking up where "The Midnight Ride" concludes, the Spirit of 1776 traces the first full year of the American war for independence. From the high point of the Evacuation of Boston to the lows of early winter of 1776, follow the Continental Army as they are forced to flee across New York and New Jersey. Learn about the nearly insurmountable challenges they faced and the hope, faith and daring that pulled Victory out of certain defeat.
If you've ever wondered what it would be like to face down a huge amphibious armada invading New York City, shiver around a campfire reading about "summer soldiers and sunshine patriots," or gamble it all on a desperate crossing of the Delaware River for "Liberty or Death" then you need to hear the Spirit of 1776.
This exciting tale will be woven throughout the day's marksmanship events.
Related Events