CANCELLED – RIMFIRE ONLY: Rifleman's Continuum Training – Five Day (Appomattox, VA)
Apr 18, 2022 @ 7:30 am

—

Apr 22, 2022 @ 5:00 pm

EDT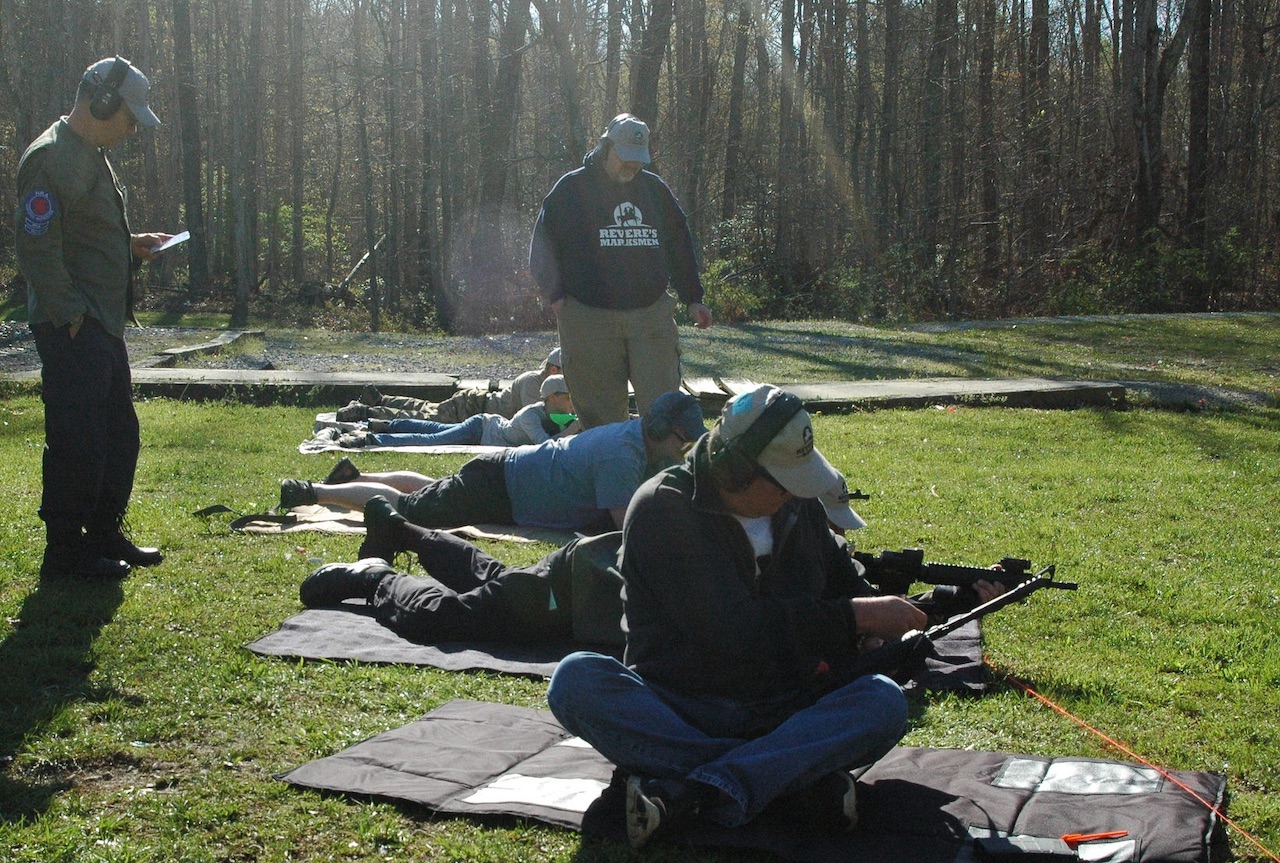 This is a private event for VCM and One Shepherd members ONLY (if you are not a member of either of these two groups and purchase a ticket anyway, your order will be cancelled and your money refunded).

This event will also be .22LR ONLY (leave the "big boy" rifles at home).

No on-site registration for this event; pre-registration via the website only.
Rifleman's Continuum Training Overview
Rifleman's Continuum Training (RCT) condenses three separate Revere's Riders rifle marksmanship courses into a single five-day event. Participants will begin with learning basic rifle marksmanship with a rimfire rifle on a 25-yard range, then take their rimfire rifle to longer "known distance", and finally learn techniques for field expedient range estimation to get hits at "unknown distance".
Prerequisites: None
Estimated Ammunition Required: About 1000 rounds of .22LR (40gr standard velocity [~1050fps], packed in at least five 1qt freezer bags; Gemtech, Aguila, Federal Gold Medal, CCI Standard Velocity are all good brands; bringing additional ammunition is never a bad idea). Same type and lot # strongly urged; consistency is a virtue especially when shooting at longer distances!
If you need to ship ammunition to the event, please contact the Event Director for shipping arrangements.
Rifle Requirements: You will need a safe rifle chambered in .22LR. Magazine-fed semi-automatic rifles generally work best for our classes (for example, the Ruger 10/22 or Marlin 795), but any other type of rifle (tube-fed semi-automatic, lever-action, bolt-action, etc.) can be used as well. Bring whatever rifle you have and we will work with you. Your rifle should have provision for sling attachment on the bottom of the rifle stock. Sling swivels that can accommodate 1¼" inch slings are preferred (Talon is my favorite brand; much more rugged and no more expensive than the competition).
A backup rifle is recommended in case problems with your primary rifle arise (no loaner rifles will be available). This RCT is intended to challenge both shooter and rifle; finding your rifle is not up to the challenge halfway through can be an unpleasant surprise.
Sight Requirements: This event is designed for scoped rifles though you may attend with other sights. Ideally, a click-adjustable scope (around 4× fixed magnification or 2-7×, 3-9×, etc. variable magnification). We will be making sight adjustments throughout the day so having a click-adjustable scope will enhance your experience. Either MOA or Mils are acceptable.
RECOMMENDED:
Quality Scope — cheap scopes will fail you; not if, but when. Your scope doesn't have to be expensive, but a quality brand (these usually include a lifetime warranty) will stack the odds in your favor. If unsure about what to get, A&A Optics are good people to turn to.
NOT RECOMMENDED:
Red Dots — the dot will obscure small targets. Additionally, red dots lack a reticle for use in measuring angular distances necessary for rangefinding severely handicapping you in the "unknown distance" (UKD) portion of this event.
Iron Sights — the "hunting sights" that come stock with most rifles will not give you the precise sight picture needed for this event. That said, Tech-Sights makes a good quality aftermarket "GI style" peep & post sight that will fit many rifles, give a better standard of accuracy, and is appropriate for this event assuming your eyesight is sufficiently good to clearly see targets at distances of several hundred yards.
Required Equipment: Please plan to bring the following gear:
case for your rifle
towel or other cover for your rifle (protection from both rain and sun; black rifles get surprising hot when exposed to direct sunlight for extended periods of time)
rucksack/pack/etc. to carry all the below gear (we'll be moving on the range throughout the day):

military-type LCE/webbing/782 gear is a good option for carrying frequently used gear on your person
a hydration backpack ("camelback" style) which can be used handsfree is an excellent option to carry your hydration supplies

sturdy field-expedient rest (bipod, sandbag, pack, bedroll, etc.)
sling for your rifle (a Magpul RLS, US GI sling, or M1907 sling are strongly preferred; "Ching" slings are also acceptable)
shooting mat or something to lie on when shooting (camping mat, rug/runner, etc) is strongly recommended; nothing inflatable!

limited loaners available on a first come/first served basis; please CALL the Event Director to reserve.

rifle cleaning gear:

bore snake or rod
cleaning solvent and oil,
appropriate cleaning brushes
rags, newspaper, etc.

8-10 magazines for your rifle is optimal; having at least 4 clear magazines allowing you to visually confirm loading status is also extremely helpful (if you don't have that many, bring whatever you do have)
high powered binoculars, spotting scope and/or electronic range finder (strongly recommended)
a way to take notes (Rite In The Rain is a popular option given that we're working outdoors; spiral bound 3×5 cards that can be had cheap at department stores are also a great solution. Bring at least two notebooks, in ziplock baggies for weather protection, and plenty of pens)
marking pen (contractor grade Sharpie preferred)
compass (lensatic type preferred)
protractor and ruler
clipboard
calculator (your phone probably has one that will be more than sufficient; however, make sure whatever calculator you bring can be used through an entire day without needing to be plugged in to charge)
tape measure (the fabric or soft plastic ones you find in the craft section are perfect; a small construction type will do)
hearing protection (bring an extra set of hearing protection, both headset and plugs, in case you should need them)
lunch and snacks (light lunch of field-stable foods to avoid "food coma" afterwards)
plenty of your preferred method of hydration (both plain water and something to replace electrolytes you will lose via sweating is ideal; plan on 2 gallons/day)
clothing appropriate for the weather over 5 days (count on rain, sun, heat, bugs, and cold; loose fitting clothing, especially around the neck, is discouraged as hot brass can lodge against the skin and cause a burn. A "boonie" cap is strongly recommended, as are long sleeved shirts and long trousers. Permethrin treating your clothing and equipment is smart; ticks, chiggers, and mosquitoes are no fun.)
boots or sturdy shoes (we'll be walking through fields and it will be muddy). NO SANDALS OR SNEAKERS!
hunter orange/fluorescent vest or boonie
knee pads
hat with a brim (to deflect flying hot brass and keep sun off your head)
assorted ziplock style plastic baggies (keep your powder and all other stuff dry!)
camp stool or folding chair
hand sanitizer
toilet paper
Please have your rifle and accoutrements ready to go; event volunteers are not gunsmiths or armorers and have neither the qualifications nor the time (which would be taken from the other shooters) to put together your rifle. Test fire your rifle(s) for both function and accuracy before coming would be smart…
Rifle 125 (Basic Rifle) Overview
This is our signature offering, based on traditional American riflecraft that teaches "Hits Count!" It is appropriate for a wide breadth of student skill levels. This course lays a sound foundation for students to shoot groups under time pressure from a variety of practical field positions. Rifle 125 includes classroom and range time firing on targets scaled to simulate 100-400yds fired at 25yds. Students learn:
Rules for safe rifle handling & range rules
Rifle parts and operation & ammunition
Shooting fundamentals: Five steps to firing each shot
Natural Point of Aim
Shooting from the prone, standing and sitting/kneeling positions to include use of the sling
Introduction to Sight Adjustments and basic calculation of minutes of angle
25yd "Morgan's 13" Classifier
25yd Rifle Qualifier
Rifle 262 Rimfire Known Distance (RFKD) Overview
Shot with .22LR rimfire rifles (Ruger 10/22, Marlin 795, etc) at 25/50/75/100yds to introduce the concepts of trajectory, come-ups, external ballistics, and field shooting. Using rimfire rifles saves money and time over centerfire, while allowing shooters to experience nearly the same practical considerations as shooting a centerfire rifle at longer distances. This clinic completes the training needed to make consistent hits at 500yds (the rifleman's quarter mile). These are the skills used in CMP and NRA Highpower matches.
Rifle 262 Rimfire Unknown Distance (RFUKD) Overview
Shot with .22LR rimfire rifles (Ruger 10/22, Marlin 795, etc) out to 200yds adds the previously mentioned skills to the concepts of target detection and range estimation. Data is created, then confirmed with good marksmanship. This allows the skills necessary in precision rifle (PRS, NRL etc) programs to be taught on the cheap (.22LR ammunition at <$0.10/round vs .338 Lapua at >$5.00/round) and on ranges with limited distance. Rifle mounted optics get best results, though the concepts can certainly be learned with iron sights. These are the skills that allow hunters in Wyoming to "get my elk at 1200 yards".
Range Fees
Range fee payable on site (minimal to cover toilet cost and to be determined; cash only / exact change only). Event Director will notify you of the exact cost prior to the event.
Camping
On-site camping is available at no charge. Camping is dry/primitive only. There will be some form of toilet provided.
Camping will begin on 4/18 and end the morning of 4/22. Please have everything you need BEFORE coming to the range; the local area may not have everything you need and the road out can be extremely muddy and/or impassable.
Required Camping Equipment:
ziplock style baggies of all sizes to keep gear dry and pack out your trash
toilet paper (kept in above mentioned ziplock baggies)
hand sanitizer (lots!)
water (at least 1 gallon/day beyond the 2 gallons/day required for day shooters)
Baby Wipes! Baby Wipes! Baby Wipes!
Additional Questions?
If you have any additional questions not answered above, please contact the Event Director via the contact information below (he is most easily reachable via phone).
Related Events