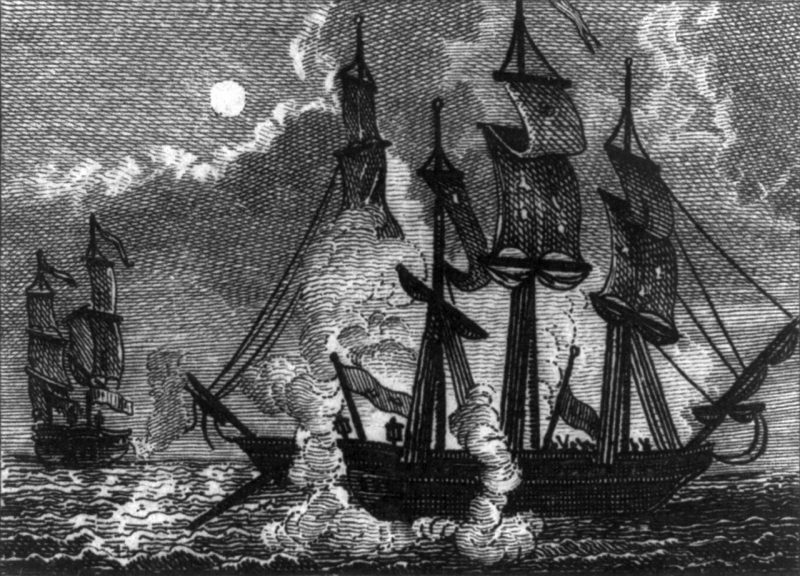 In 1779, Kind Louis XVI of France donated the merchant ship Duc de Duras to the newly formed Continental Navy and she was placed under the command of John Paul Jones. She was renamed Bonhomme Richard as an homage to Benjamin Franklin (Ambassador to France and author of "Poor Richard's Almanac") and the generosity of France. Bonhomme Richard displaced approximately 998 tonnes and was armed with 42 cannon.
The Bonhomme Richard was dispatched to Europe with a mission to protect merchant shipping departing European ports for the colonies and to provide a deterrent to the British Navy in the Bay of Biscay. Bonhomme Richard was accompanied by the USS Alliance, Pallas, Vengeance and Cerf.
On 23 September 1779, the squadron encountered HMS Serapis and Countess of Scarborough near Flamborough Head. Wikipedia recounts the ensuring naval battle as follows:
Bonhomme Richard and Serapis entered a bitter engagement at about 6:00 p.m. The battle continued for the next four hours, costing the lives of nearly half of the American and British crews. British victory seemed inevitable, as the more heavily armed Serapis used its firepower to rake Bonhomme Richard with devastating effect. The commander of Serapis finally called on Jones to surrender. He replied, "Sir, I have not yet begun to fight!" Jones eventually managed to lash the ships together, nullifying his opponent's greater maneuverability and allowing him to take advantage of the larger size and considerably more numerous crew of Bonhomme Richard. An attempt by the Americans to board Serapis was repulsed, as was an attempt by the British to board Bonhomme Richard. Finally, after another of Jones's ships joined the fight, the British captain was forced to surrender at about 10:30 p.m. Bonhomme Richard – shattered, on fire, leaking badly – defied all efforts to save her and sank about 36 hours later at 11:00 a.m. on 25 September 1779. Jones sailed the captured Serapis to the Dutch United Provinces for repairs.

Though Bonhomme Richard sank after the battle, the battle's outcome was one of the factors that convinced the French crown to back the colonies in their fight to become independent of British authority.
The whereabouts of the wreck of Bonhomme Richard were unknown until now. Previously, the wreckage of Bonhomme Richard were believed to be 6 miles from the coast; marine explorers now say the wreckage is "walkable from the beach and visible from the cliffs above".