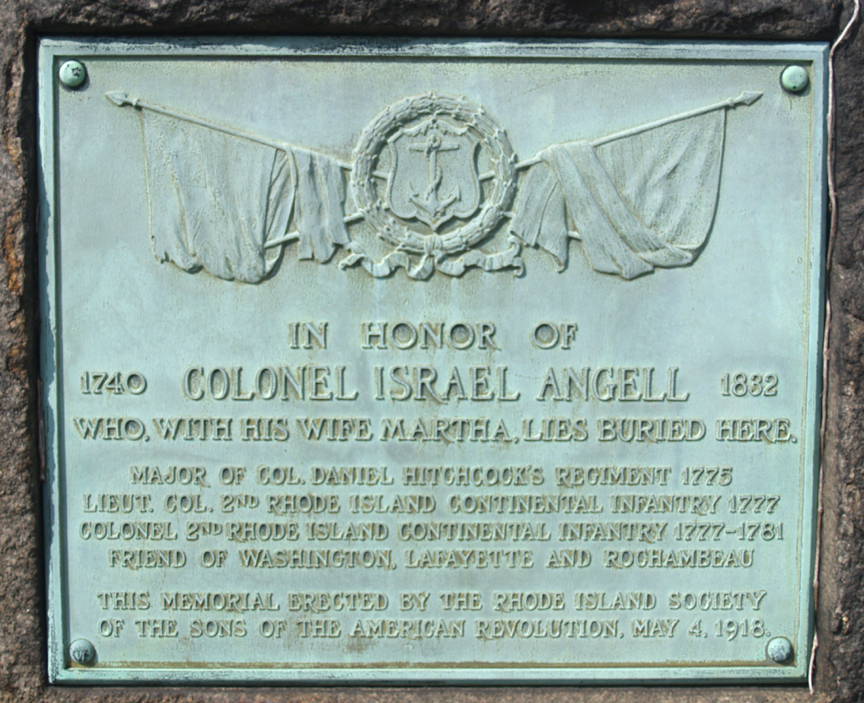 On this day, May 4, 1918, the relocated graves of Colonel Israel Agnell and his first wife, Martha, were dedicated at a ceremony in Providence, Rhode Island. Israel Agnell was born on August 24th, 1740 to Oliver and Naomi Agnell in Providence, Rhode Island and was a fifth generation descendant of one of the original settlers in Rhode Island. The Rhode Island Society of the Sons of the American Revolution (RISSAR) took responsibility for the careful relocation of the graves and organization of the dedication ceremony.
Israel Agnell served throughout the Revolutionary War, first commissioned as a Major and later being promoted to Lieutenant Colonel and finally (only a few days later) to Colonel with command of the 2nd Rhode Island Regiment upon the death of Colonel Daniel Hitchcock in 1777. Agnell served at Valley Forge in the winter of 1777 to 1778 as well as the following battles:
Of note is Colonel Agnell's valor during the Battle of Springfield when he along with 170 other men held a strategically important bridge for 40 minutes against an opposing force of over 1500 British soldiers. General George Washington later wrote in a letter to Governor Greene of Rhode Island:
"The gallant behavior of Colonel Agnell's regiment…at Springfield, reflects the highest honor upon the officers and men. They disputed an important pass with so obstinate bravery that they lost upwards of forty in killed, wounded and missing before they gave up their ground to a vastly superiority of force."
Colonel Agnell was admired by his men and a persistent advocate for freedom. Before the war, Colonel Agnell made repeated calls for peace and his despair at the partisan infighting of the times is evident in a December 1st, 1775 letter to his brother which was written after the suicide of a colleagues sister:
"…there was a malenculy Affair happened a few days past at – deadham. Col huntingdon Wife from Conneticut hanged her Self there. She was Governer Trumbels Daughter of Connecticut & Sister to our Commisarry general in Cambrig. Brother I am much allarmd at the News of the Conduct of the People in Providence And the towns adjecent to hear that they are likely to rise in mobs on the account of Salts rising and Some other small articals I begg of Every Honest and well ment person both in town and country to Exert them Selves to The utmost of their Power to Surpress aney riotous Proceeding Among your Selves Especily at this time for God Sake Let us unite all as one in America if we dont. but fall at varance among our Selves, of all Gods Creation we Shall be the most Miserablest"
Colonel Angell was not above criticizing those who bickered behind their desks while not providing basic necessities for his troops. He accounted numerous times in his diary of the challenges to keep afield men who were fighting for freedom while they experienced great personal need.  We think of those who strived during the founding of our nation as those to emulate and yet recognizing their struggles is no longer considered in the same character as even 100 years ago.
Today Revere's Riders invites all to remember Colonel Isreal Angell and the men he led. Men who maintained gracious habits during the most difficult of times in order that The United States of America could realize her freedom.