Today, November 11, 2021, is Veterans Day where all Americans celebrate the courage and sacrifice of those who have served in our armed forces. It also happens to be the 100th anniversary of the dedication of the Tomb of the Unknown Solider in Arlington National Cemetery.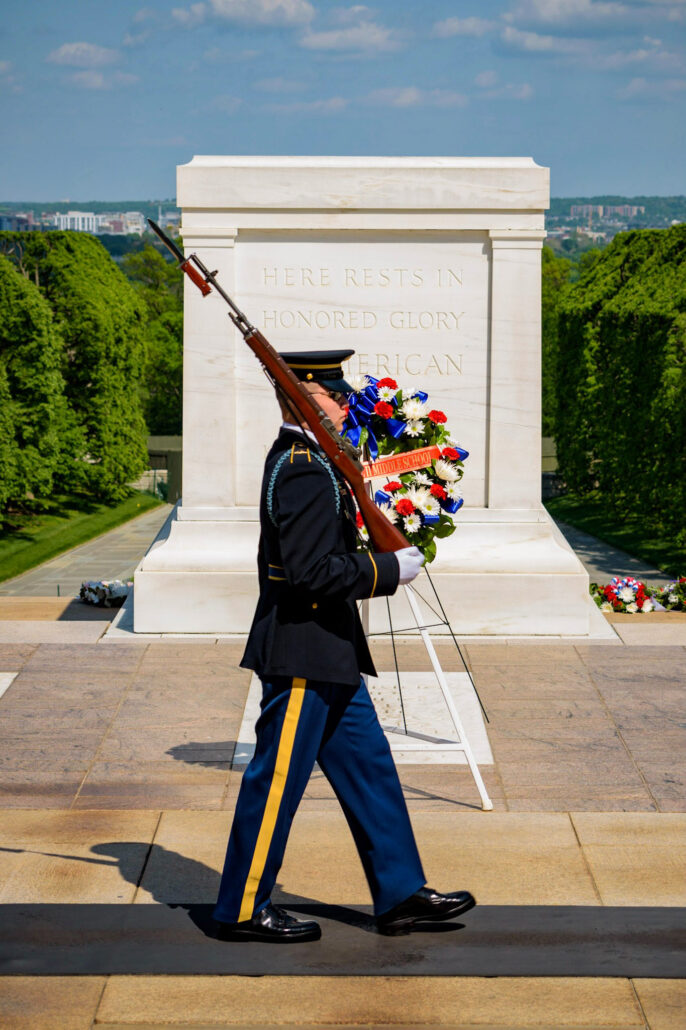 On this Veterans Day, while we honor all those who have served, I would like to focus on the 100th anniversary of the dedication of the Tomb of the Unknown Solider and one of the men involved in the dedication ceremony: 1st Lieutenant Samuel Woodfill.
1st Lieutenant Woodfill was born in southern Indiana, just north of Madison, on January 6, 1883 and joined the US Army on March 8, 1901 when he was 18. Samuel served in the Philippines, Alaska, and Kentucky but it was during WWI that he distinguished himself. Woodfill was assigned to the 60th Infantry Regiment, Fifth Infantry Division of the American Expeditionary Force when on October 12, 1918 during the Meuse-Argonne Offensive he found himself in the following engagement:
While he was leading his company against the enemy, First Lieutenant Woodfill's line came under heavy machinegun fire, which threatened to hold up the advance. Followed by two soldiers at 25 yards, this officer went out ahead of his first line toward a machinegun nest and worked his way around its flank, leaving the two soldiers in front. When he got within ten yards of the gun it ceased firing, and four of the enemy appeared, three of whom were shot by First Lieutenant Woodfill. The fourth, an officer, rushed at First Lieutenant Woodfill, who attempted to club the officer with his rifle. After a hand-to-hand struggle, First Lieutenant Woodfill killed the officer with his pistol. His company thereupon continued to advance, until shortly afterwards another machinegun nest was encountered. Calling on his men to follow, First Lieutenant Woodfill rushed ahead of his line in the face of heavy fire from the nest, and when several of the enemy appeared above the nest he shot them, capturing three other members of the crew and silencing the gun. A few minutes later this officer for the third time demonstrated conspicuous daring by charging another machinegun position, killing five men in one machinegun pit with his rifle. He then drew his revolver and started to jump into the pit, when two other gunners only a few yards away turned their gun on him. Failing to kill them with his revolver, he grabbed a pick lying nearby and killed both of them. Inspired by the exceptional courage displayed by this officer, his men pressed on to their objective under severe shell and machinegun fire.

–Medal of Honor Citation, January 22, 1919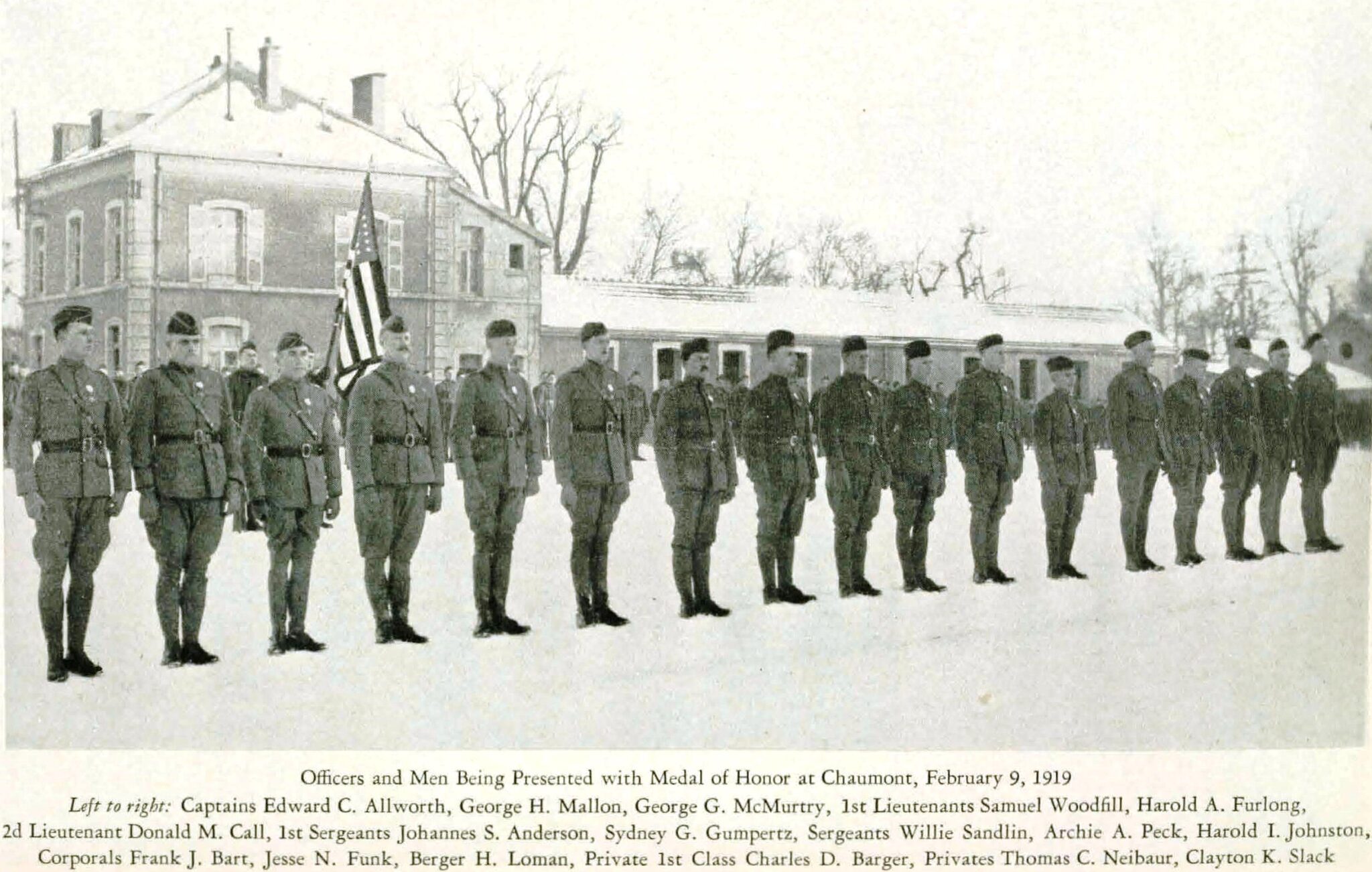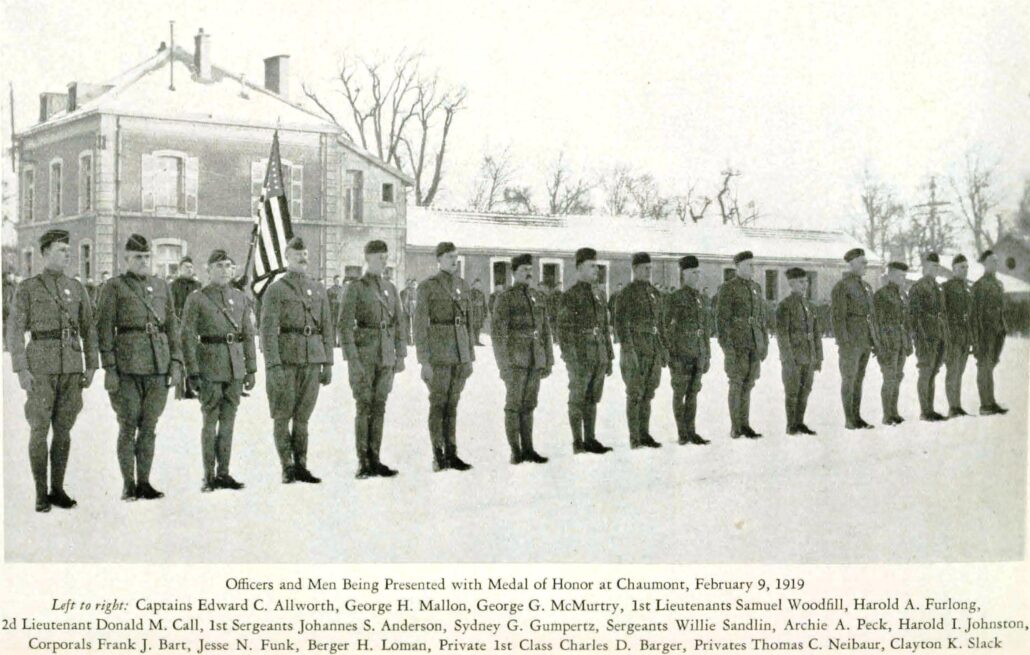 Woodfill would be presented with the Medal of Honor on February 9, 1919 by General John J. Pershing, who would later say:
Deeds of valor were too numerous to mention here. Outstanding was the heroism of Lt. Samuel Woodfill, Fifth Division, in attacking single-handed a series of German machine-gun nests near Cunel and killing the crews of each in turn until reduced to the necessity of assaulting the last detachment with a pick, dispatching them all.

–General John J. Pershing
1st Lieutenant Woodfill would also earn numerous other distinctions:
For the dedication of the new Tomb of the Unknown Soldier, three suitable military veterans were to be selected to assist in the ceremony. Over 3,000 potential candidates were considered and General Pershing selected the final three: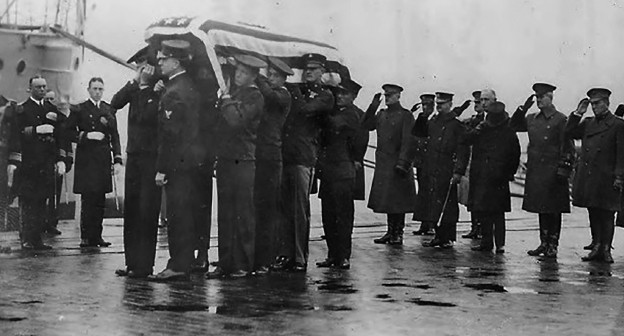 Many of us have heard of the exploits of Medal of Honor winner Sergeant Alvin C. York; a movie was made about him after all. Far fewer of us know of the courage and modesty of 1st Lieutenant Samuel Woodfill (he would only mention receiving the Medal of Honor to his biographer, leaving out all of his other honors).
Woodfill would fittingly be buried at Arlington National Cemetery in close proximity to his commanding officer General John J. Pershing.
When you thank a veteran for his or her service to our country today, know that the person whose hand you are shaking just might be a highly decorated active or retired member of the military whose modesty is only outweighed by their courage, bravery, and dedication to their country. For Samuel Woodfill, that was certainly the case.
Rest in Peace to the members of our military that gave all in service to their country.