In one month, Revere's Riders has sold approximately half of the 360 raffle tickets for a Henry "American Beauty" rifle. Henry Repeating Arms generously donated the rifle to Revere's Riders as part of our Marty Brown Memorial™ fundraising efforts for Ovar'coming Together, a non-profit organization which supports central Indiana women diagnosed with ovarian cancer. On behalf of the Marty Brown Memorial™ series of events, Revere's Riders will donate 75% of raffle proceeds to Ovar'coming Together in support of their programs.
The "American Beauty" is a member of the "Golden Boy" series of lever-action rifles and features a nickel-plated receiver with rose gold highlighted engraving by master engraver Heidi Roos. The rifle features an American walnut stock, fully adjustable rear site, beaded front site, octagonal barrel, and the smooth lever action for which Henry rifles are renown. Chambering is for .22 S/L/LR with a 15 round capacity for .22LR and 21 round capacity for .22S.
The "American Beauty" rifle was designed by Henry president Anthony Imperato's late father, who passed away before the rifle could be completed. In the 2014 press release announcing the "American Beauty", Imperato is quoted:
My father, a few months before he passed away, told me he would like us to design a model with women in mind, featuring the iconic American Beauty Rose and call it the Henry American Beauty. We never got around to doing it until now – and there's nothing pink about this gun.

— Anthony Imperato
As with all Henry firearms, the "American Beauty" is "made in America or not made at all".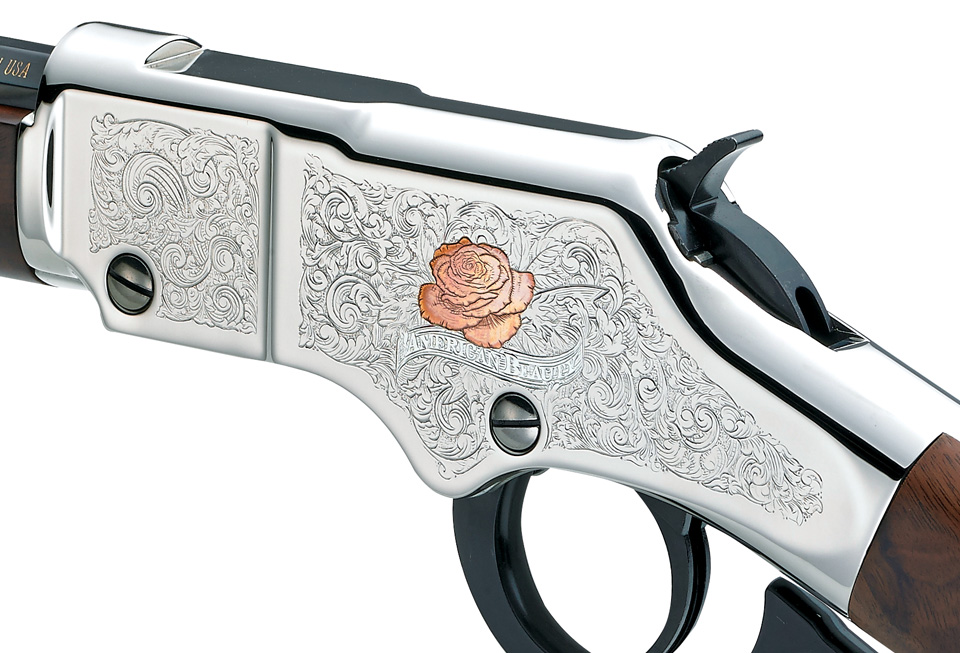 Only 360 raffle tickets will be sold, giving you an excellent opportunity of winning the rifle. Tickets will be sold, while supplies last, until the date of the raffle, December 2, 2023. Given the rapid pace of ticket sales to date, we expect to sellout well before the raffle takes place.
Tickets are $20/ea or 6 for $100.
Those interested in purchasing tickets should contact Phil Brown (), Event Director for the Marty Brown Memorial™ series of events.