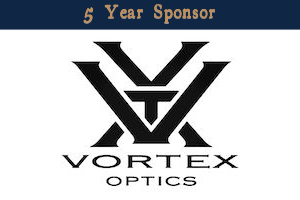 Vortex Optics is a long-time supporter of Revere's Riders and was one of the sponsors of the Inaugural Marty Brown Memorial Open event in 2019. Vortex has always been extremely generous with donations of riflescopes, red dot sights, binoculars, and a fantastic "VIP Weekend" for four in 2021.
This year, Vortex has donated two of their finest riflescopes:
Both of these scopes will be included in the Marty Brown Memorial event silent auctions with final bids collected at the 7th Annual Marty Brown Memorial Invitational tentatively scheduled for November 11-12, 2023 at Camp Atterbury near Edinburgh, IN.
Join us at the upcoming Marty Brown Memorial™ Open Round #2 on September 16th, 2023 just outside Zionsville, IN.