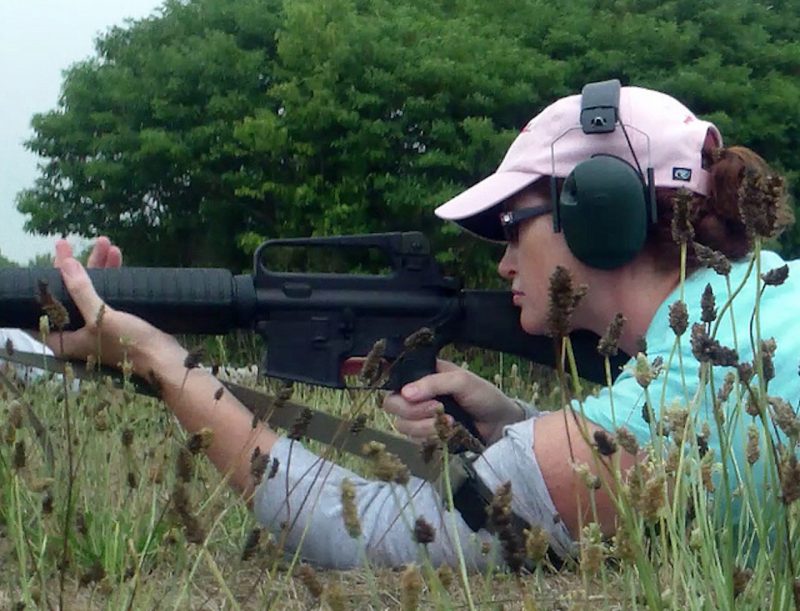 On the weekend of August 3rd and 4th, over 30 participants gathered for the Inaugural Marty Brown Memorial Open held in Bedford, IN at the Bedford Contingent range. The Marty Brown Memorial events honor the memory of Marty Brown, an instructor with Revere's Riders and firearms enthusiast, who succumbed to a nearly four-year battle with ovarian cancer. A portion of the revenue from ticket sales, a silent auction, give-aways and skills contest were set aside as a donation to Ovar'coming Together, a non-profit organization dedicated to supporting women diagnosed with ovarian cancer.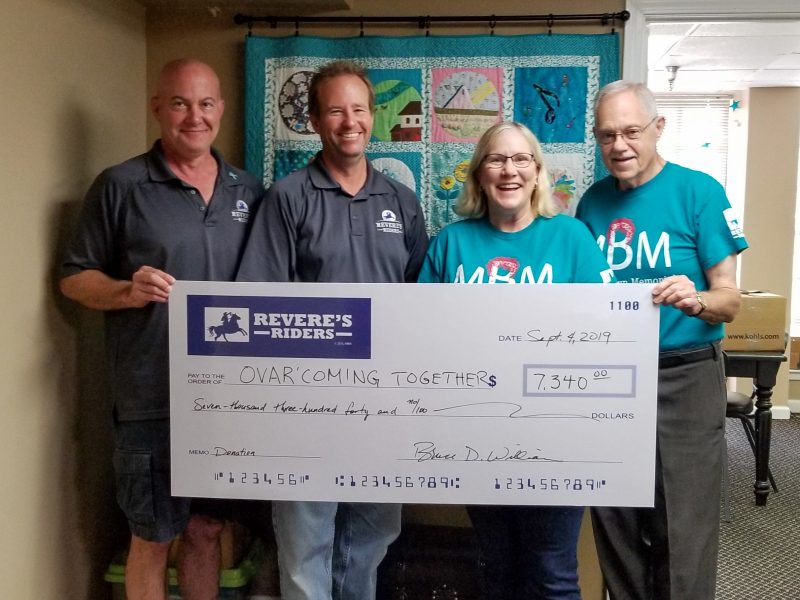 Over 50 companies generously donated items to be included in the silent auction, give-aways and skills contest. A short time after the event, Marty's husband and Marty Brown Memorial Open event director, Phil Brown, along with Revere's Riders President, Bruce Williams, presented Robin Jackson, Ovar'coming Together Executive Director, and Bob Hunter, Ovar'coming Together President, a check in the amount of  $7,340.
The Marty Brown Memorial Open itself was a huge success with over 30 participants. The weekend was divided into one day of pistol training and one day of rifle training similar to our Whittemore Weekend event. Interspersed with the firearms training, give-aways were conducted with each recipient reading a short message regarding an important date or event in Marty's life.
Each day also included a contest for participants to put their marksmanship skills to the test; each winner received a prize with all other participants receiving a discount card for Safariland products. One of our contests ended up with a four-way tie that necessitated some quick thinking by the event director to determine an appropriate tie-breaker challenge. As usual, the Bedford Contingent provided fabulous range facilities along with lunch on both days (fried chicken on Saturday and BBQ ribs on Sunday).
In November, we will be hosting the 3rd Annual Marty Brown Memorial Invitational rifle match at Camp Atterbury near Edinburgh, IN. This will also be a fund raising event for Ovar'coming Together and will be by invitation only. Prerequisite for an invitation is the ability to "shoot a score" (Marksman or above) on the Revere's Riders Rifle Qualification Test. The event director will also consider requests to participate on a case-by-case basis; contact the event director at the link in the event listing.
The Marty Brown Memorial Invitational will be an informal match using the Revere's Riders Rifle Qualification Test at known distance (i.e., 100, 200, 300 and 400 yards). The match will be conducted on the world-class known-distance rifle ranges at Camp Atterbury where the 2019 NRA High Power Rifle Championships were held earlier this summer. These ranges are on the military side of the base and not generally accessible to the public.
Thanks to all the participants, companies that generously donated products and all the volunteers that helped make the Inaugural Marty Brown Memorial Open a success. We hope to see you later this year at the Marty Brown Memorial Invitational and at next year's Marty Brown Memorial Open!
Photos from the event are available in the Photo/Video Gallery section of the website: