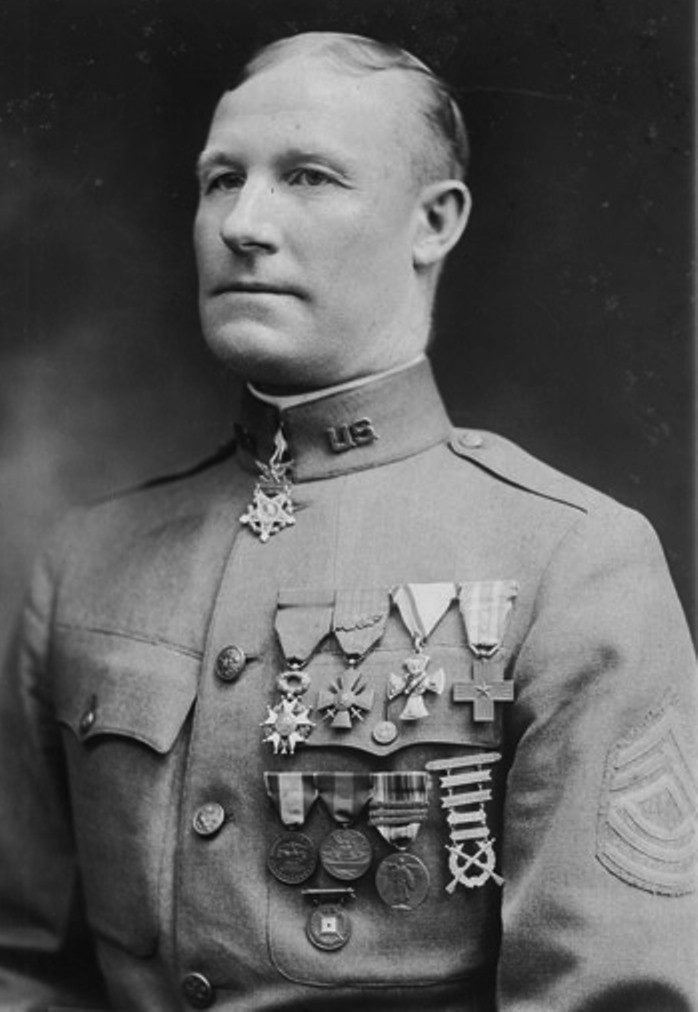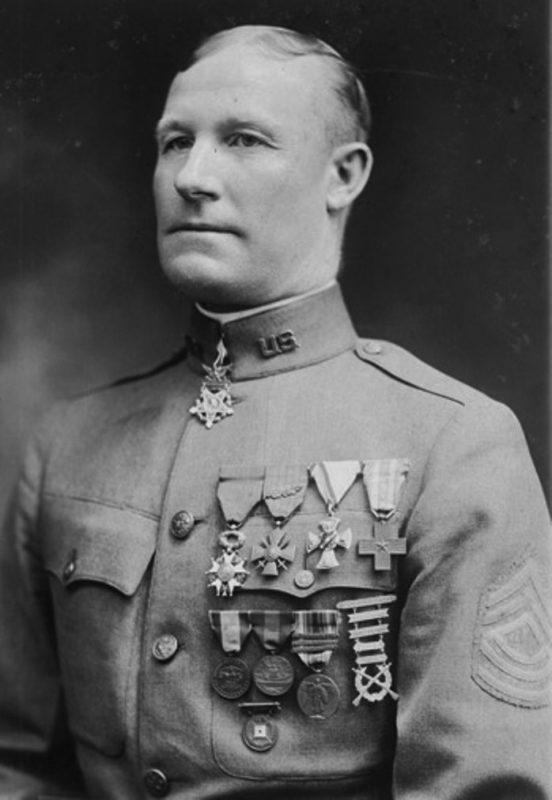 Bruce Williams, past Revere's Riders president and current board member/webmaster, has donated a first edition copy of "Woodfill of the Regulars: A True Story of Adventure from the Arctic to the Argonne" which tells the life story of Major Samuel Woodfill. Major Woodfill was a recipient of the Congressional Medal of Honor during WWI, honorary pallbearer at the dedication of the Tomb of the Unknown Soldier in 1921, and a pallbearer for General John J. Pershing in 1948. Major Woodfill is buried at Arlington National Cemetery.
Participants at the Marty Brown Memorial Invitational™ have heard the story of Major Samuel Woodfill's exploits in WWI for several years now. Range 5 at Camp Atterbury contains a small monument to this Hoosier hero.
Medal of Honor citation for First Lieutenant Samuel Woodfill:
While he was leading his company against the enemy, First Lieutenant Woodfill's line came under heavy machinegun fire, which threatened to hold up the advance. Followed by two soldiers at 25 yards, this officer went out ahead of his first line toward a machinegun nest and worked his way around its flank, leaving the two soldiers in front. When he got within ten yards of the gun it ceased firing, and four of the enemy appeared, three of whom were shot by First Lieutenant Woodfill. The fourth, an officer, rushed at First Lieutenant Woodfill, who attempted to club the officer with his rifle. After a hand-to-hand struggle, First Lieutenant Woodfill killed the officer with his pistol. His company thereupon continued to advance, until shortly afterwards another machinegun nest was encountered. Calling on his men to follow, First Lieutenant Woodfill rushed ahead of his line in the face of heavy fire from the nest, and when several of the enemy appeared above the nest he shot them, capturing three other members of the crew and silencing the gun. A few minutes later this officer for the third time demonstrated conspicuous daring by charging another machinegun position, killing five men in one machinegun pit with his rifle. He then drew his revolver and started to jump into the pit, when two other gunners only a few yards away turned their gun on him. Failing to kill them with his revolver, he grabbed a pick lying nearby and killed both of them. Inspired by the exceptional courage displayed by this officer, his men pressed on to their objective under severe shell and machinegun fire.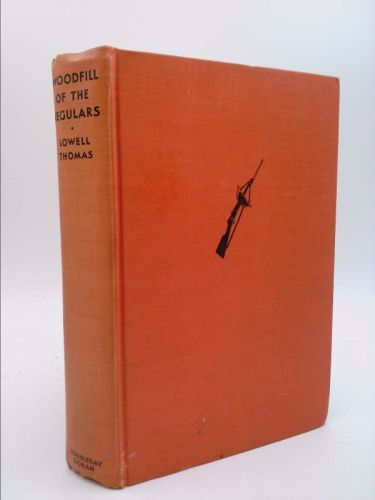 Join us at the upcoming 7th Annual Marty Brown Memorial Invitational™ to be held at the long-distance ranges on the military side of Camp Atterbury, IN (near Edinburgh, IN and just south of Indianapolis, IN) on the weekend of Nov. 11-12, 2023. These are the same ranges used for the NRA National Matches. Dozens of other give-aways, skills contest prizes, and silent auction items will be given away/awarded at the event; a complete lists can be found on the 2023 Marty Brown Memorial Invitational Swag Bags, Give Aways, Prizes, Auctions page of the Revere's Riders website.
The Marty Brown Memorial Invitational™ is by invitation only to those able to safely handle their rifle with minimal to no supervision as well as sufficient marksmanship skills to keep rounds on target out to 400-600 yards. Those who have "shot a score" at a Revere's Riders rifle event are automatically given an invitation (these invitations have already gone out via email; if you didn't receive yours, please contact Phil Brown, Marty Brown Memorial Invitational™ Event Director, at ).
If you can't make the 7th Annual Marty Brown Memorial Invitational™, consider attending one of our other upcoming events: