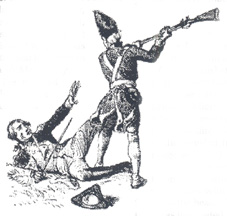 A&A Optics along with Patriot Concealment Systems will be sponsoring the upcoming Whittemore Weekend℠ at Lost Creek Conservation Club in Seelyville, IN (just east of Terre Haute, IN) over the weekend of Oct. 6-7. Alan Alcorn of A&A Optics let us know he will be donating sufficient Vortex rifle scopes and accessories such that event participants will have approximately a 1-in-4 chance of going home a winner. Patriot Concealment Systems will also be at the event and will be giving away some holsters.
At the event, you will hear about April 19, 1775 and the birth of our nation. On that day, Samuel Whittemore took a courageous and solitary stand against British "Regulars" armed with a rifle, set of dueling pistols and a sword; it was a stand he need not have taken as a 79 year old "alarm lister". However, take a stand he did and he nearly paid the ultimate price as a result.
Our Whittemore Weekend event honors the memory of Samuel Whittemore. During the weekend, you will practice both pistol and rifle marksmanship. Plan to bring both a serviceable rifle and pistol along with appropriate ammunition and magazines for both. If you aren't sure of the equipment you need to bring, consult the What to Bring page. In general, bring what you have and the instructors will work with that; after the event, you should have a better idea of whether what you have works and, if not, what might make a better choice.
We hope to see you at the range!