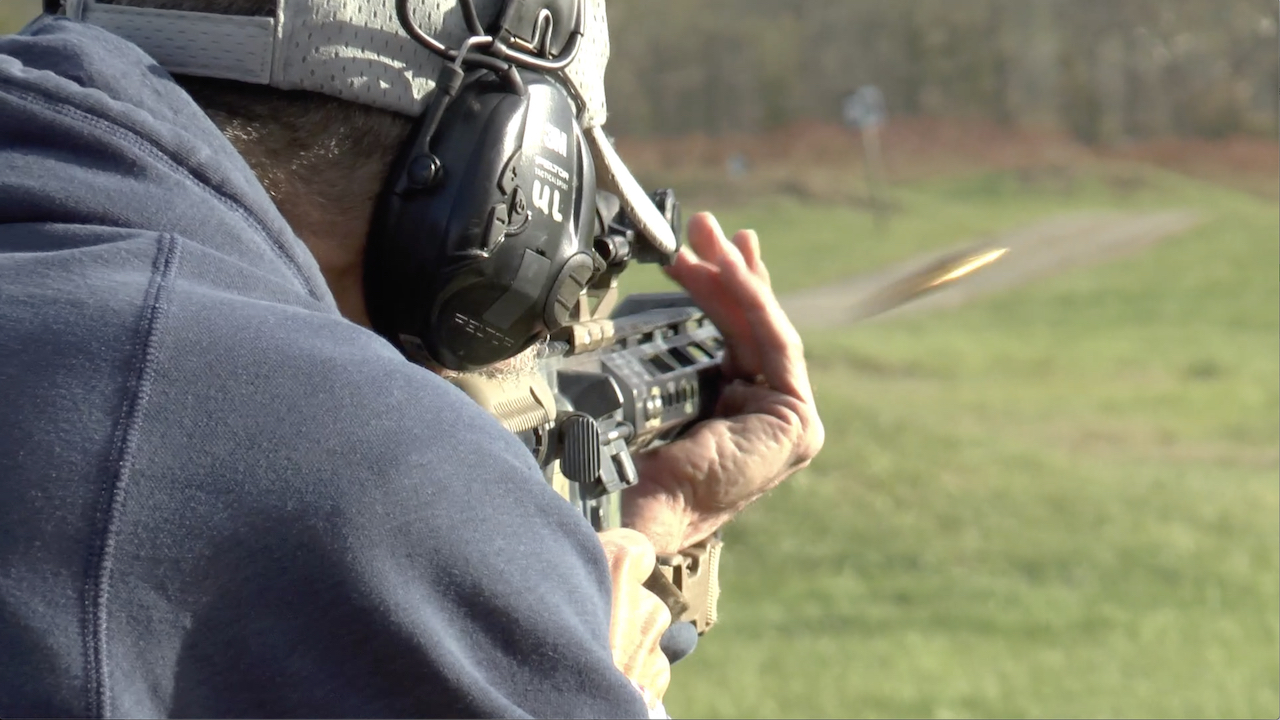 Originally, this event was to be conducted entirely on a "pop-up" target rifle range at Camp Atterbury (Range 14). We had reserved this range early in the year but approximately 2 weeks before the event, the US Army informed us that we were being bumped off Range 14 to accommodate a unit that was being deployed overseas. This unit needed the range to qualify their personnel on their rifles.
Fortunately, we were able to arrange use of one of the "pop-up" target pistol ranges (Range 10) in the morning and then share Range 14 in the afternoon.  In our previous experience using paper target ranges at Camp Atterbury, these changes in range schedule are quite unusual. In hindsight, since we were using the ranges where the Army performs pistol and rifle qualification this may have been inevitable. Once at the range, maintenance personnel let us know that the base was more active than it had been in quite some time. Apparently, we just picked a bad weekend to be civilians on a military base…
Range Control
Twenty-four participants met at 0745 at the Camp Atterbury Range Control building. Yet another change to our plans had developed the previous day at the Camp Atterbury "Deconfliction Meeting". Our start time on Range 14 was now pushed back to 1400 and, depending on the deploying unit's needs to qualify their personnel, we might have limited use of the range; fortunately, we still had sole use of the pistol qualification range (Range 10) up to 1400.
After receiving a "downrange pass" for each vehicle, we proceeded in a caravan to Range 10. Participants unloaded their gear and proceeded with their vehicle to the parking lot (only limited parking is available at the range itself).
Pistol Qualification Range
Due to the number of active ranges that day at the base, there was a delay in getting checked into Range 10 (US Army regulations dictate that we must be checked in by Range Control at the range itself before any live fire; the proper functioning of the "pop-up" target system needed to be verified as well).
After the US Army regulations regarding occupying the range were satisfied, a short safety briefing was held. Those wishing to draw from a holster demonstrated their technique for range safety officers; all but one participant passed. The lone participant failed to pass due to a holster that collapsed upon withdrawing their pistol making it extremely difficult to safely re-holster.
Participants divided into three separate relays to accommodate the range's 10 firing positions, 8 of which were functional (one was completely non-functional and one had targets that failed to register hits). Each firing position consisted of a "lane" of 7 targets positioned behind small berms at 10, 13, 16, 17, 23, 27 and 31 meters downrange from the firing line. Targets consist of three-dimensional torsos (aka "Ivan" targets) which lay flat behind the berms and are raised to vertical via computer control for the shooter to engage. Target exposure time as well as scoring of hits is also under computer control.
Using the Targetry Range Automated Control and Recording (TRACR) system, several different target scenarios were run to include the official US Army Combat Pistol Qualification Course (CPQC), the MP course, and other pre-defined scenarios available to us (creating our own target scenarios was not allowed by base regulations and would have taken significant time away from actual shooting). On the official US Army Combat Pistol Qualification Course ("9M Qual"), 30 targets are presented and shooters are rated as follows:
Expert—26 to 30
First Class—21 to 25
Second Class—16 to 20
Around 1200 each relay had the opportunity to run through several different target scenarios and then we broke for lunch and the story of the life of Dr. Joseph Warren including the events of April 19th, 1775 and his death at the Battle of Breed's Hill.
During lunch, range technicians worked to address a few target malfunctions that had been observed (mainly targets that were not registering hits). To ensure each participant had the opportunity to shoot on a lane with fully functioning targets, shooters were asked to move to a new lane after lunch. We were able to run one target scenario for all three relays after lunch before our scheduled 1400 start time on the US Army Rifle Qualification Range.
Below is video from one of the target scenarios to give you an idea of what it is like to shoot on this range. Note the 3-round bursts in the background from M249 SAW light machine guns on the range to our right. Their field of fire extends to the grassy area behind our range (at the 1:45 mark, just to the right of the 6|7 firing lane marker you can see a target on top of the berm for the range being used by the M249 SAWs).
Rifle Qualification Range
Packing up and moving to the rifle qualification range (Range 14) involved loading equipment into a pickup truck for transport to the area where most vehicles parked. During that time, the official US Army sign-out process for Range 10 was performed with Range Control.
Once we reached Range 14 and met with the commanding officers of the unit occupying the range it became apparent that our time there would be severely limited. By this time in the day, conditions were less than friendly to accurate marksmanship. Shooters had to contend with a full value wind from the right varying from 10-20 mph, with occasional gusts to about 25 mph.  With the high winds and broken low level clouds, the lighting constantly changed as well, making the shooting extremely challenging (in the video, note that the targets at 250 and 300 meters are extremely difficult to identify).  Firing positions onRange 14 are elevated on approximately 6 foot high berms making the stiff wind even more of an issue. Of the 90+ members of the unit, only 30 or so had successfully qualified on their rifles. The final insult was non-functional or shredded targets on several of the lanes.
Given the pressure on the unit commanders to get their soldiers qualified, we considered ourselves lucky to get use of the range at all. We were only allowed sufficient time to run our 2 relays of shooters through a single qualification course of fire.
On the positive side, our relays were run through the US Army Rifle Qualification Course by military personnel. Shooters prepare 3 magazines, 1 with 20 rounds and 2 with 10 rounds each. The 20 round magazine is used in the "prone supported" position (rifle resting on a rubber block) while the 10 round magazines are used for "prone unsupported" and "kneeling" positions. The course of fire presents the shooter with 40 targets from 50 through 300 meters; according to the unit commanders we spoke with, those attempting to qualify will often intentionally not engage the 300m target so they have an extra few rounds in case they miss a close range target.
Scoring for the US Army Rifle Qualification Course is as follows:
Expert—36 to 40
Sharpshooter—30 to 35
Marksman—23 to 29
With an admonition to vote on Nov. 6th, our day at Camp Atterbury came to a conclusion.