Three new books have been added to the Revere's Riders online store. Obviously, each of these books are outside of our usual focus on Revolutionary War history, but we have included them in our online store to highlight American military heroes of more modern times.
Alvin York was the most celebrated military hero of WWI. His story begins in eastern Tennessee hill country where he grew up in a strict Christian family but became a drunken bar-brawler in his early adult years. Through his own efforts and those of others in his small Tennessee town, he eventually saw the error of his ways and converted to Christianity. His faith was put to the test when he was drafted for WWI.
From the Goodreads website: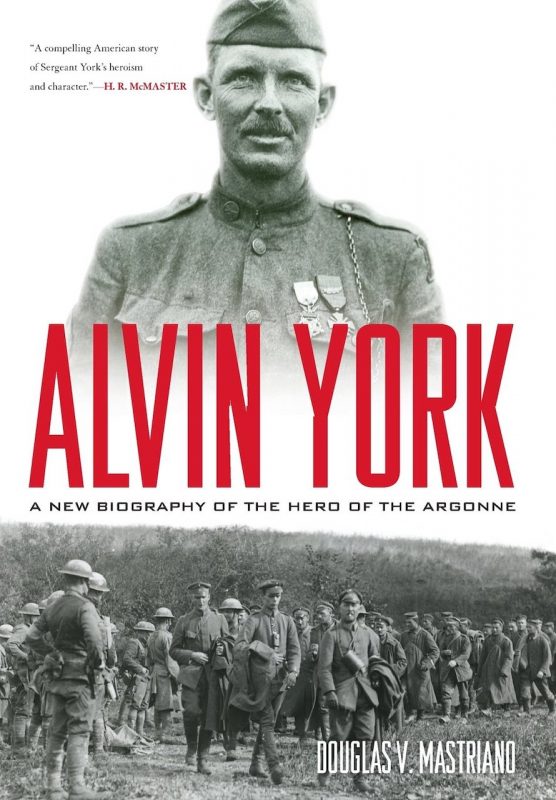 Alvin C. York (1887-1964)—devout Christian, conscientious objector, and reluctant hero of World War I—is one of America's most famous and celebrated soldiers. Known to generations through Gary Cooper's Academy Award-winning portrayal in the 1941 film Sergeant York, York is credited with the capture of 132 German soldiers on October 8, 1918, in the Meuse-Argonne region of France—a deed for which he was awarded the Congressional Medal of Honor.

At war's end, the media glorified York's bravery but some members of the German military and a soldier from his own unit cast aspersions on his wartime heroics. Historians continue to debate whether York has received more recognition than he deserves. A fierce disagreement about the location of the battle in the Argonne forest has further complicated the soldier's legacy.

In Alvin York, Douglas V. Mastriano sorts fact from myth in the first full-length biography of York in decades. He meticulously examines York's youth in the hills of east Tennessee, his service in the Great War, and his return to a quiet civilian life dedicated to charity. By reviewing artifacts recovered from the battlefield using military terrain analysis, forensic study, and research in both German and American archives, Mastriano reconstructs the events of October 8 and corroborates the recorded accounts. On the eve of the WWI centennial, Alvin York promises to be a major contribution to twentieth-century military history.
Outlaw Platoon is the true story of Captain Sean Parnell, Army Ranger and combat infantryman with the elite 10th Mountain Division, and his 485 days of fighting along the Afghan-Pakistan border during 2006-2007. From Sean Parnell's official website: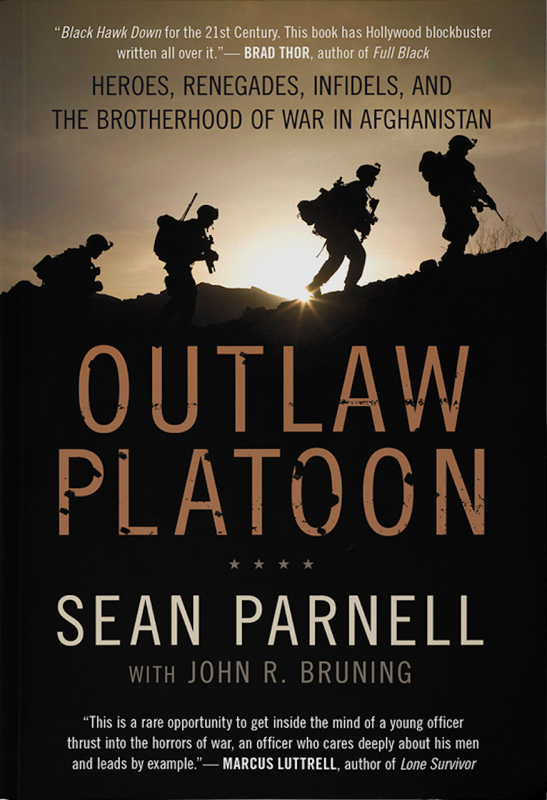 …Captain Sean Parnell's unique leadership skills welded his platoon into one of the most fierce and effective American fighting units in modern military history. Repeatedly outnumbered and outgunned by a foe whose avowed purpose was to overrun his platoon and behead his Soldiers so that their torturous deaths could be filmed and posted on Al Qaida propaganda websites, Sean's "Outlaws" battled furiously in the most rugged terrain on the planet—the towering Hindu Kush Mountains. Eighty-five percent of his platoon received Purple Hearts for wounds incurred in battle, but his men gave far more than they received. Outlaw Platoon killed over 350 enemy fighters in some of the biggest firefights of the Afghan War.

Not only did he lead his men against Taliban, Haqqanni and Al Qaida fighters, but his platoon was repeatedly attacked by uniformed members of the Pakistani military on the Afghanistan side of the border. In January, 2007, a Pakistani frontier corps force joined an Al Qaida-led mass assault on Sean's platoon, then stationed in a remote and half-completed combat outpost scores of miles from the nearest friendly base. The ensuing battle created an international incident and led directly to a confrontation between U.S. State Department officials and the Pakistan government. Sean was wounded in action on June 10, 2006 when his platoon was nearly overrun for the first time by a force that outnumbered them almost ten to one. Refusing to leave his men as they battled the enemy at point-blank range, Sean was knocked unconscious and wounded two more times during the firefight. Each time, he returned to his feet to lead his men again. His selfless example prompted one of his Soldiers to remark later, "Sean Parnell saved us all".

After the June 10, 2006 battle, Sean continued to suffer from untreated head and neurological wounds. For weeks after, cerebral-spinal fluid leaked from his ears and nose while he continued to patrol with his men. His dedication to his men came at great personal cost: when he returned home following the 2006 deployment, his wounds forced him from the Army and he was medically discharged. His platoon remains one of the most decorated Army units since 9/11.
Many reviews of Lone Survivor focus on the obvious aspects of this story: the struggle to become a Navy Seal and the battle that Lt Michael Murphy, Gunner's Mate 2nd Class Danny Dietz, Sonar Technician 2nd Class Matthew Axelson and Hospital Corpsman 2nd Class Marcus Luttrell fought against the Taliban in the mountains of Afghanistan.
Indeed, those stories take up a large portion of the book, but the larger and more interesting aspects of the story are two dilemmas, with life or death consequences:
the four SEALs accidentally encounter a local man and boy while on their mission; do they let the locals go knowing full well they will inform the local Taliban of their presence or do they kill them on the spot?
after Luttrell barely survives the battle between his patrol and the local Taliban, he manages to crawl several miles, severely injured, only to once again encounter locals; would these locals kill him or help him?
The SEALs chose to let the local man and boy go knowing it likely meant their presence in the area would be relayed to the Taliban who would send a numerically larger force to track them down. The Pashtun tribesman that came across the severely wounded Luttrell opts to protect him from the local Taliban at great risk to both himself and his family. These were difficult decisions with many lives hanging in the balance. Each chose honorably.
From the Barnes and Noble description of Lone Survivor:
On a clear night in late June 2005, four U.S. Navy SEALs left their base in northern Afghanistan for the mountainous Pakistani border. Their mission was to capture or kill a notorious al Qaeda leader known to be ensconced in a Taliban stronghold surrounded by a small but heavily armed force. Less then twenty-four hours later, only one of those Navy SEALs remained alive.

This is the story of fire team leader Marcus Luttrell, the sole survivor of Operation Redwing, and the desperate battle in the mountains that led, ultimately, to the largest loss of life in Navy SEAL history. But it is also, more than anything, the story of his teammates, who fought ferociously beside him until he was the last one left—blasted unconscious by a rocket grenade, blown over a cliff, but still armed and still breathing. Over the next four days, badly injured and presumed dead, Luttrell fought off six al Qaeda assassins who were sent to finish him, then crawled for seven miles through the mountains before he was taken in by a Pashtun tribe, who risked everything to protect him from the encircling Taliban killers.

A six-foot-five-inch Texan, Leading Petty Officer Luttrell takes us, blow by blow, through the brutal training of America's warrior elite and the relentless rites of passage required by the Navy SEALs. He transports us to a monstrous battle fought in the desolate peaks of Afghanistan, where the beleaguered American team plummeted headlong a thousand feet down a mountain as they fought back through flying shale and rocks.

In this rich, moving chronicle of courage, honor, and patriotism, Marcus Luttrell delivers one of the most powerful narratives ever written about modern warfare—and a tribute to his teammates, who made the ultimate sacrifice for their country.