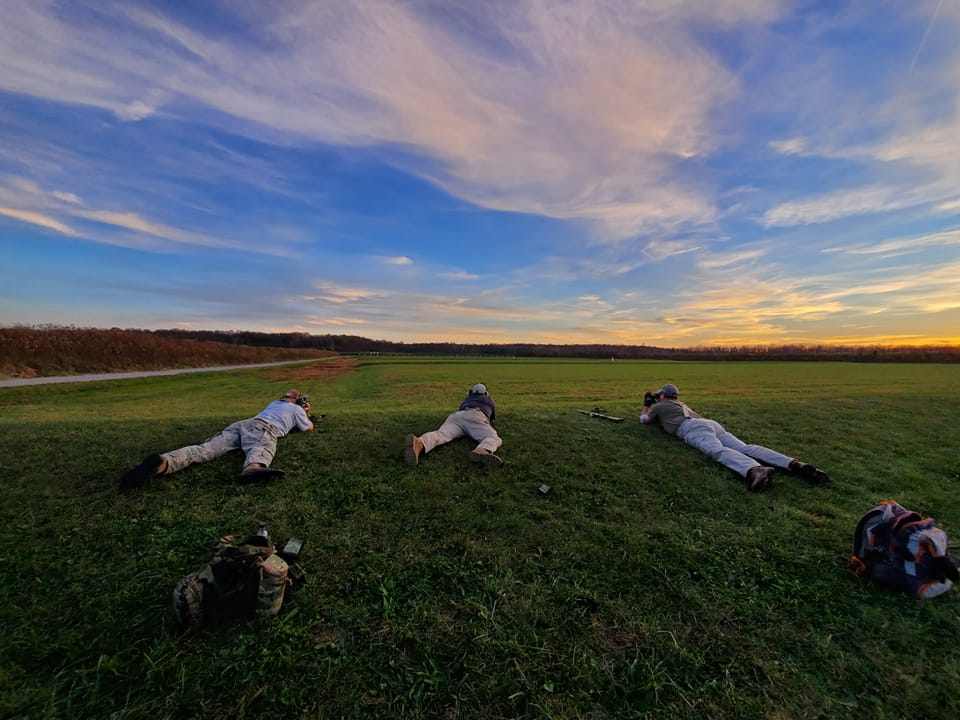 Revere's Riders returned again to Camp Atterbury in Indiana for the 6th Annual Marty Brown Memorial™ Invitational rifle match held November 5th and 6th. The Marty Brown Memorial™ series of events honors one of our rifle instructors, Marty Brown, who passed away from ovarian cancer in 2017. In her memory, the events are fundraisers for Ovar'coming Together, a non-profit central Indiana organization that supports women diagnosed with ovarian cancer.
The first day of the match presented weather conditions that challenged each of the 11 competitors: intermittent rain and gusting winds (we measured gusts up to 30mph). Wind calls were a necessity to stay on target, especially at 300 and 400 yards. At one point, a particularly strong gust blew two target backers off their frames and over the target berm!

As in previous years, the course of fire for the match is the Revere's Riders Rifle Qualification Test (aka, "R3QT") shot at "actual distance". This qualification is an integral part of our Rifle 125 marksmanship course, but typically only shot from 25 yards with scaled targets. Moving out to "actual distance" of 100 to 400 yards adds the complexity of changing target distance forcing the marksman to either adjust his/her sights or "hold over" while keeping their sights fixed.
Whatever method the marksman chooses, shooting the R3QT at actual distance reinforces that the techniques we teach in Rifle 125 work at 400 yards as well as they do at 25 yards. If one can shoot a 4 MOA group at 25 yards, the same technique at 400 yards will produce an approximately 4 MOA group as well (assuming that your wind hold is correct!).
Participants were squadded into two equal groups; one manned the target pits while the other shot two R3QTs (one "going out" from 100 to 400 yards and one "coming in" from 400 to 100 yards). Going out, for a $20 donation one could participate in "skills contests" as follows:
100 yards — 30 seconds of calisthenics followed by 3 shots from standing in 30 seconds; closest to the target bullseye wins.
200 yards — transition to seated with 3 shots in 25 seconds; again, closest to the target bullseye wins.
300 yards — begin at the 400 yard berm, proceed to the 300 yard berm, and fire 3 shots from the prone position in 70 seconds; yet again, closest to the target bullseye wins.
400 yards — 3 shots from prone in 120 seconds; for this contest, smallest group wins.
If there are more than two skills contest winners, a "shoot-off" is run to determine the top two. The shoot-off consists of five balloons (1 white and 4 teal) stapled to target backers; competitors are given 7 rounds and 30 seconds to burst as many balloons as possible from 400 yards. The white balloons are slightly smaller and worth 3 points while the larger teal balloons are worth 1 point each.
The two top skills contest winners from the morning relay and the two top skills contest winners from the afternoon relay then have a final shoot-off at 500 yards to determine placings and choice of prizes. The skills contest final for each day consists of a single shot from 500 yards within a time limit of 120 seconds; closest to the center wins. Competitors are allowed 3 sighters to confirm their sight adjustments.
The Saturday skills contest finalists were:
and the Sunday skills contest finalist were:
Once the morning competitors finished their R3QTs, it was time to break for lunch. On Saturday, Revere's Riders President Bruce Williams recounted the story of Medal of Honor recipient Samuel Woodfill. First Lt. Woodfill was honored for his action during the Meuse-Argonne offensive of WWI when he single-handedly took out three machine-gun implacements. Woodfill was later chosen as one of three Medal of Honor recipients to participate in the dedication of the Tomb of the Unknown Soldier in 1921 (Charles Whittlesey and Alvin York being the other two). Woodfill died in 1951 and was initially buried in Indiana; his remains were later exhumed and reinterred at Arlington National Cemetery not far from where General John J. Pershing was buried. General Pershing had described Woodfill as the "most outstanding soldier of WWI".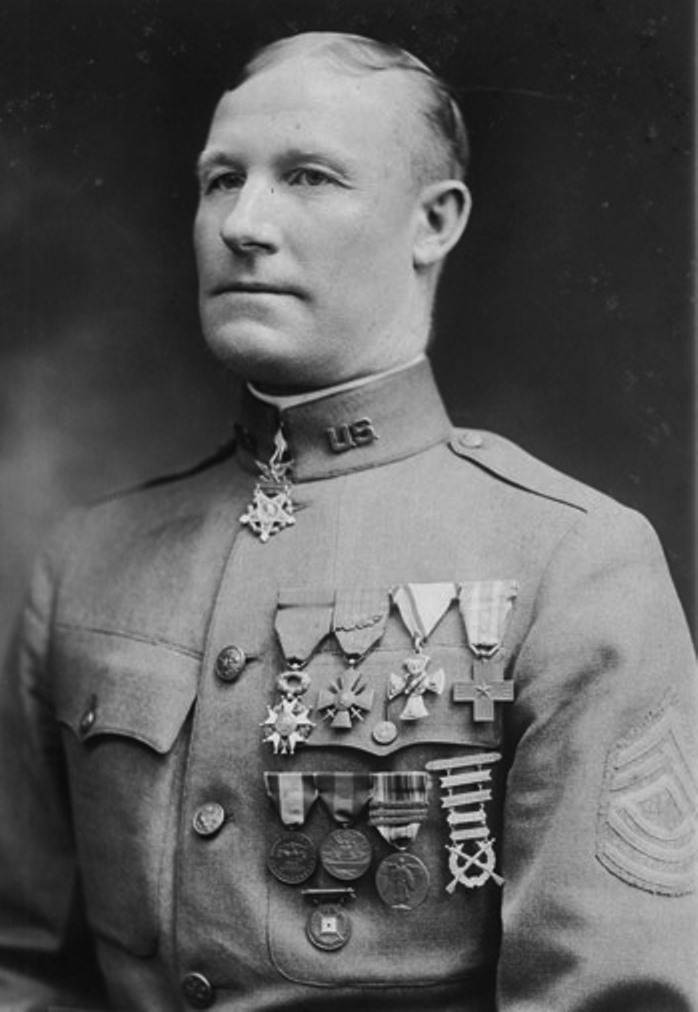 A small memorial with a plaque inscribed with First Lt. Woodfill's Medal of Honor citation can be found on Range 5 at Camp Atterbury, adjacent to Range 4 where this year's Marty Brown Memorial™ Invitational was held.
On Sunday during lunch, Revere's Riders Treasurer Matt Hill related the story of George "Dad" Farr and his nearly unbelievable feat of shooting 71 consecutive bullseyes from 1,000 yards at the 1921 NRA National Matches. Farr accomplished his feat using a "rack grade" Springfield 1903 rifle issued to him at the match along with standard military issue 30-06 ammunition. Farr's "spotting scope" was a set of opera glasses that he had cut in half. But for the lack of light towards the end of his record breaking consecutive string of bullseyes, Farr may well have shot more than 71.
Farr's fellow competitors were so impressed with his marksmanship that they took up a collection and purchased the rifle he had used and later had a silver plaque affixed to it. The rifle now resides at the National Firearms Museum. The next year, the Civilian Team Trophy was renamed the Farr Trophy in his honor.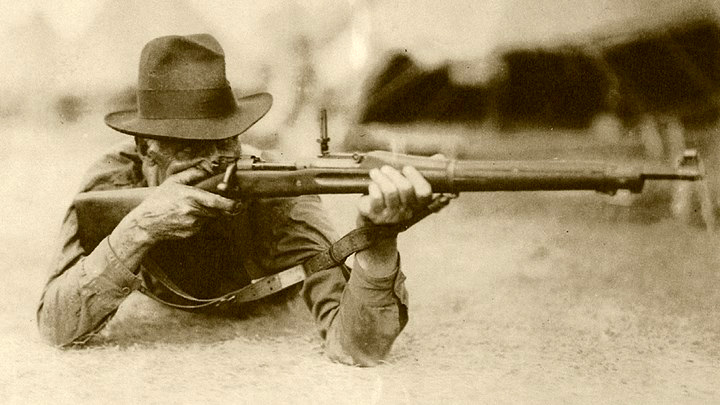 Once the final shot of the Marty Brown Memorial™ Invitational was fired on Sunday, competitors gathered to finalize bids on the silent auction and to await presentation of the trophies:
High Score — Matt Anderson (39-1V)
"Tactifail" — Matt Hill
Matt Anderson is now the 5th winner of the Marty Brown Memorial™ Invitational trophy; John Hopkins, Matt Hill, Darrell Hammer, and Jim Rose being the four previous winners (Darrell Hammer is the only repeat winner). Matt Hill becomes the only winner of both the High Score and "Tactifail" trophies.