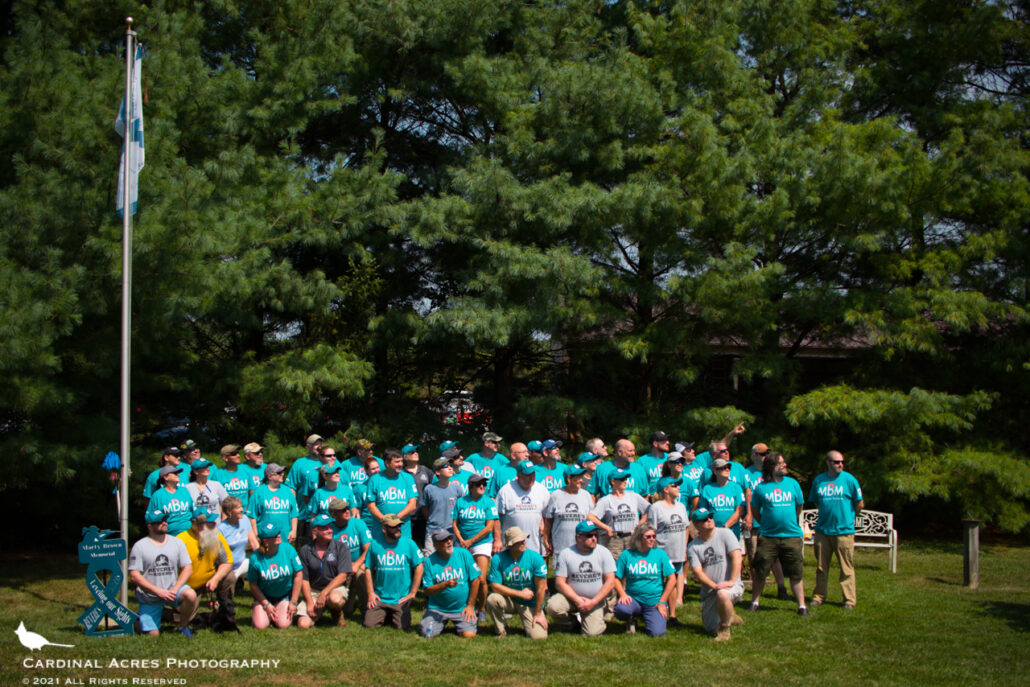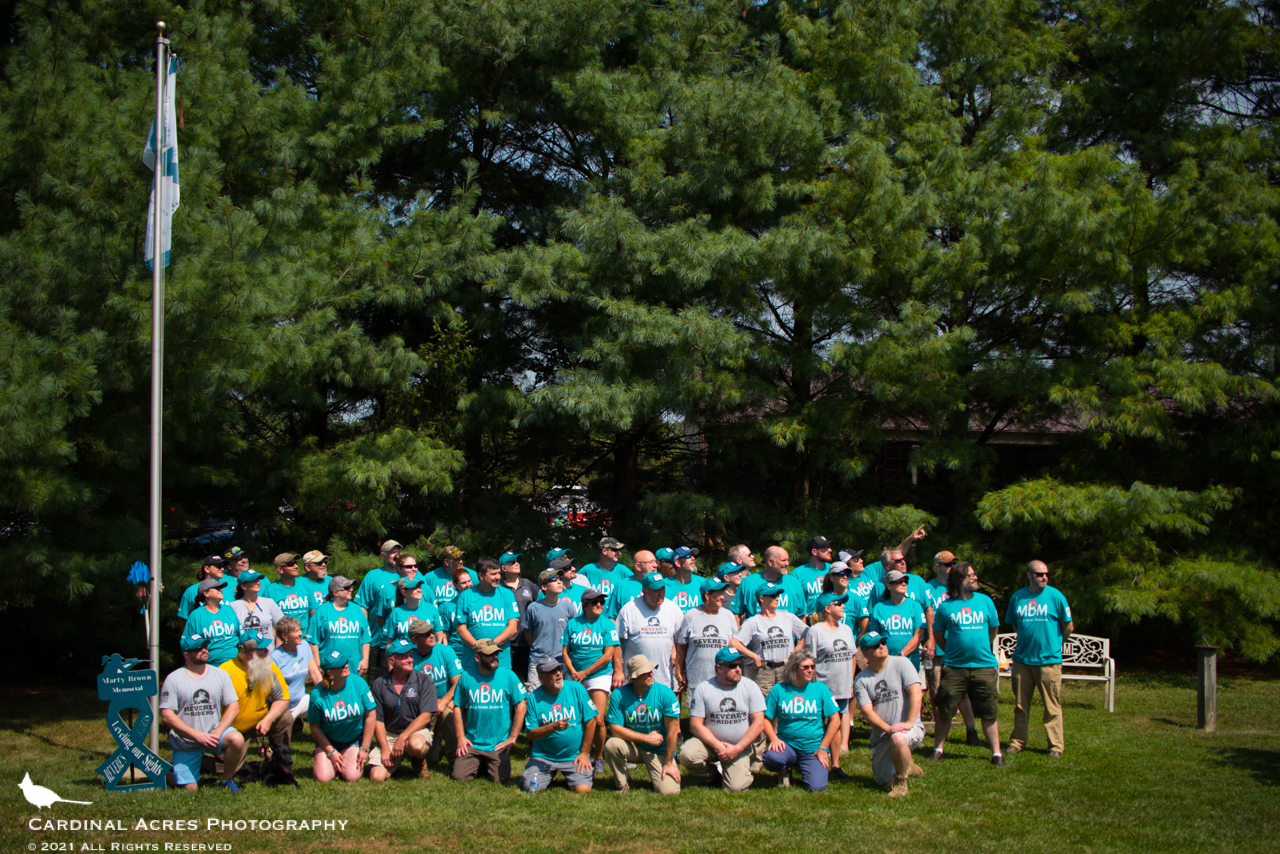 Twenty-Twenty-One marked the start of the return to "normalcy", both for our country and for Revere's Riders. We returned to running events mostly as we had before COVID-19; event attendees that wanted to take extra precautions at our events were welcome to do so but Revere's Riders requires nothing specific to attend our events.
This past year marked our expansion into the state of Wyoming with event director and instructor Richard "Sleepy" Jamharian who will be running events at the Laramie Rifle Range in Laramie, WY. Rick's first event was a Rifle 125 on August 21, 2021. Welcome Rick! We look forward to an expanding presence in the mountains of the west.
Kevin "Unbridled Liberty" Fitz-Gerald continues to oversee some really great events in Kentucky. In 2021, the "Grinder" event was brought back under the new title of "Revere's Riders Rifle Qualification Test" or "R3QT". The R3QT is a half-day event of nothing but the Revere's Riders Rifle Qualification Test. The objectives for this event are two-fold:
provide an event for past Rifle 125 participants to practice their marksmanship skills
given the current cost and scarcity of ammunition, provide an event where rimfire rifles can be used to practice marksmanship skills
Look for more of these events in 2022.
As an organization, Revere's Riders has recognized that the cost of ammunition has increased and it's availability has decreased. We have decreased round counts at our events when possible, encouraged the use of rimfire firearms instead of centerfire where possible, and highlighted our events that are "rimfire friendly". Our goal is to make it as easy as possible to participate in our events.
Revere's Riders continues to generate sufficient revenue to support all of our programming plus a minimal surplus. In addition to expenses related directly to putting on our events, Revere's Riders also supports our volunteers and instructors with a generous reimbursement policy for ongoing instructor training outside of our organization. Revere's Riders has our own internal training program and we conducted our first Instructor Training Weekend in 2021, specifically to provide a two-day weekend of focused training and discussion regarding our Rifle 125 (Basic Rifle) course. Qualified, competent and safe instructors are our goal and we put our money where our mouth is.
Finally, we are proud to have supported Ovar'coming Together with our ongoing Marty Brown Memorial series of events. In 2021, Revere's Riders made donations totaling over $17,700 making our organization the largest single donor to Ovar'coming Together.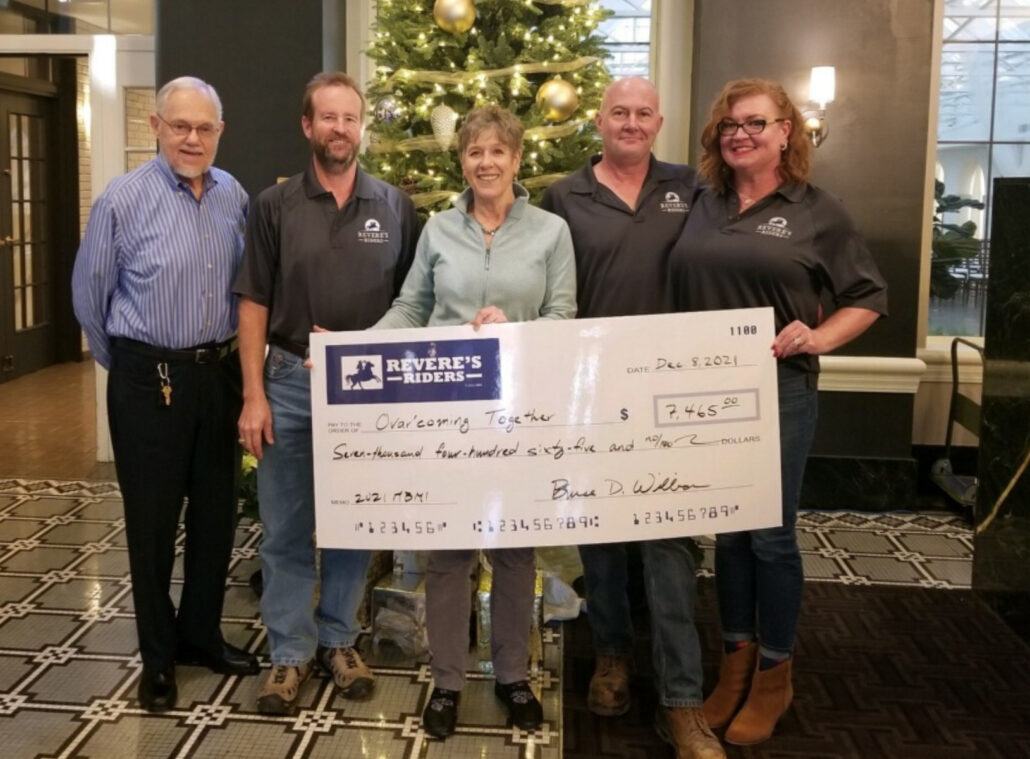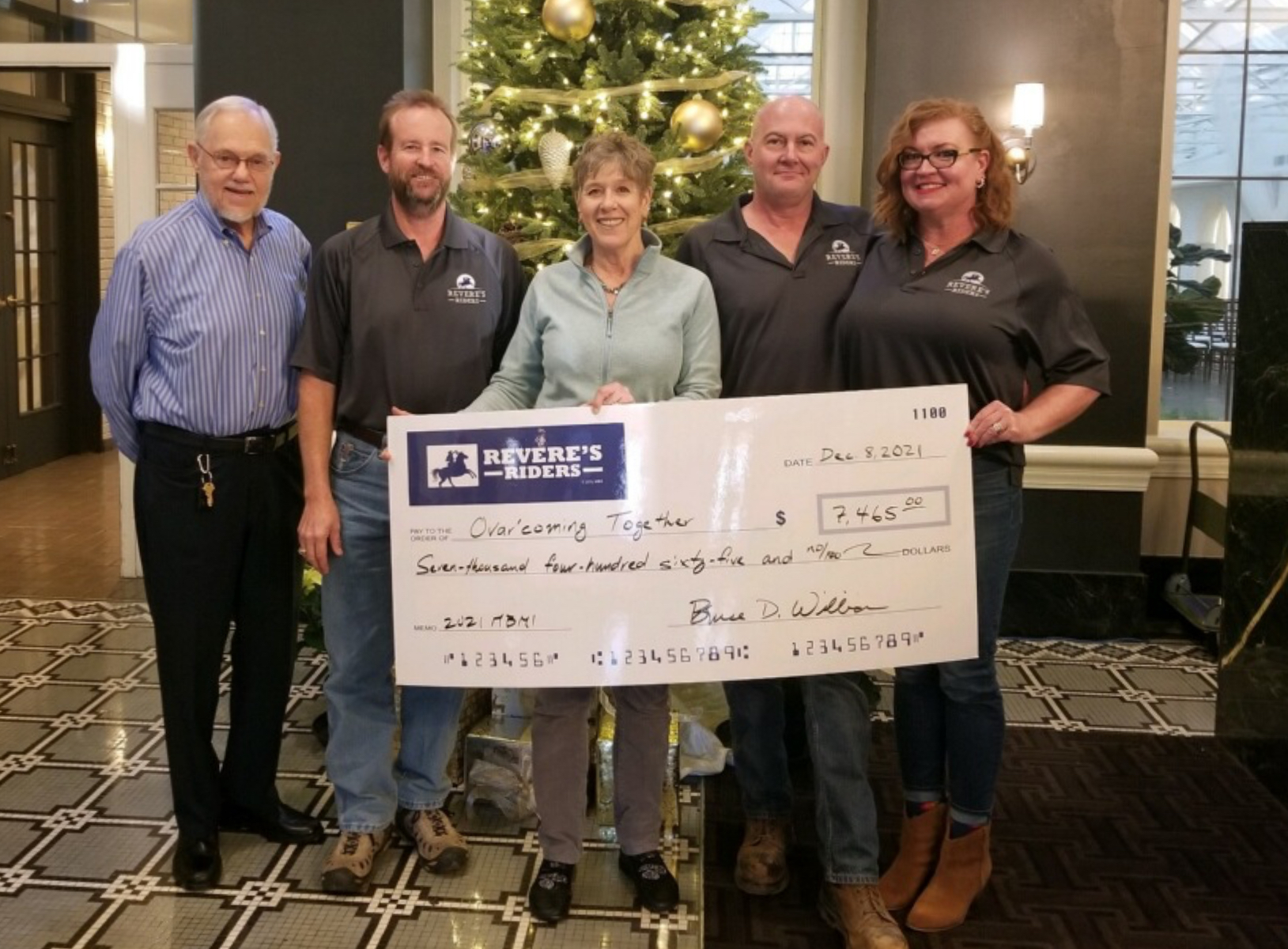 All of the officers, board members, instructors and volunteers of Revere's Riders invite you to come out and join us at one of our upcoming 2022 events:
You will learn marksmanship skills, firearm safety, meet some fantastic people, and possibly help in our fundraising efforts on behalf of Ovar'coming Together. See you on the range!
2021 Achievements
Events: 30 (up from 20 in 2020)
States: 4 (up from 3 in 2020)
Students: at least 300 students participated in events plus an unknown number of "walk ons" (up from 199 in 2020)
Post-Event Survey: every participant at a Revere's Riders event receives a post-event survey asking about their experience. This helps us improve our events, learn how participants discovered Revere's Riders as well as learn what type(s) of events participants would like to see us offer in the future. For 2021, we asked six questions pertaining to the quality of our events with allowed responses from 1 to 5 with 1 being "worst" and 5 being "best". In 2021, we received 62 responses. The questions and average numerical response were as follows:

"How would you rate your overall experience?": 4.9/5.0 (same as 2020)
"How would you rate the credibility, communication skills, and professionalism of the volunteer staff?": 4.9/5.0 (same as 2020)
"What do you think about the value of the class given the ticket price?": 4.9/5.0 (same as 2020)
"How effective was the marksmanship program at improving your skills?": 4.8/5.0 (same as 2020)
"How effective was the civic engagement component of the event at motivating you to be involved in your community?": 4.6/5.0 (down from 4.7 in 2020)
"How effective was the history presentation at connecting you to shared American heritage?": 4.8/5.0 (up from 4.7 in 2020)

Financials: approximately $29k in revenue, $16.5k in grants and donations and $36k in expenses leaving an approximate $11k operating reserve (based on our revised financial statements of 2/7/2022).
Cash on Hand: our cash reserves at the end of 2021 stand at just over $44k.
Social Media:
Website: our website continues to be our main information resource for the general public. The website averages 50 or more visits per day including a significant portion of visits from states where we don't currently run events (indicating that interest in our organization has grown beyond the 4 states we currently serve).
Elections: elections were held late in 2021 for Secretary and Treasurer in accordance with our By-Laws. Frank Tait was elected to another term as Secretary; we had no nominations for Treasurer so that position is currently vacant. The accounting firm of Bottom Line Advisors of Indianapolis, IN is currently providing us with professional accounting services.
Board of Directors: Cam Edwards' term as At-Large member of the Board of Directors expired at the end of 2021. Currently no At-Large members sit on the Board of Directors.
Marty Brown Memorial: we continued with the format of three Marty Brown Memorial events from last year (a 1-day pistol course, a 1-day rifle course, and a 2-day rifle match) and each event continues to raise funds in memory of Marty Brown, an instructor with Revere's Riders that lost a 40-month battle with ovarian cancer in 2017. Funds are donated to Ovar'coming Together, an Indianapolis based 501(c)3 non-profit with a mission of supporting all women diagnosed with ovarian cancer. In 2021, Revere's Riders donated a total of approximately $17,700 making Revere's Riders the single largest supporter of Ovar'coming Together.
Volunteer/Instructor Training: in 2021, Revere's Riders held its first official volunteer/instructor training weekend. Twenty of our volunteers attended the event and received various instructor certifications. Revere's Riders is committed to facilitating ongoing instructor training, either internally or via reimbursement of expenses to attend external firearms instructor programs.
NRA Instructor Certification: additionally, Revere's Riders sponsored a NRA instructor training weekend allowing several of our instructors to gain NRA Basic Pistol and NRA CCW certifications.
2022 Plans
2022 NRA Meeting
We are considering attendance at the 2022 NRA Annual Meeting in Houston, TX later this spring. While we haven't committed to anything definite at this point, don't be surprised to see us there in either an official or unofficial capacity. If you would like to arrange a meet-up of some kind, contact us via any of the avenues on our Contact Information page and we will try to arrange something.
Marty Brown Memorial Events
The Marty Brown Memorial series of events will continue into 2022 using the same format as in 2021 (one-day pistol event open to the public, one-day rifle event open to the public, and the invitation-only 6th Annual Marty Brown Memorial Invitational rifle match at Camp Atterbury).
Join us at one of these events to raise funds for Ovar'coming Together's programs which provide support and counseling for women diagnosed with ovarian cancer. Our goal for 2022 is to reach $20,000 in total donations.
New and Improved Events
In 2021, we conducted a "trial run" of a Rimfire Only Rifle 262 (Field Rifle). That event was a learning experience and has resulted in a new offering: Rifle 262 (Rimfire Known Distance / Centerfire Unknown Distance Clinic) 2-Day (Liberty, IN). This new event will combine a "known distance" one-day course using rimfire rifles with an "unknown distance" one-day course using centerfire rifles. Participants will learn long-range ballistics on their rimfire rifles and then apply those lessons to their centerfire rifles. This event will be hosted by Alan Alcorn at his private range in Liberty, IN. Tickets are on sale now and selling fast!
How Can You Help?
If you would like to be part of our growing organization, there are several ways you can do so:
Attend an Upcoming Event
Attend one of our upcoming events, get some fantastic firearms training and learn some Revolutionary War history. Better yet, bring a friend with you!
Volunteer
Revere's Riders is always looking for people to assist with our mission, including:
firearms instructors (if you already have certifications with another organization, chances are we can quickly get you up to speed with our methods of instruction)
club officers (there are usually some openings for club officers)
general volunteers (we can always use general help at events beyond firearms instruction and running the organization as a whole)
If you would like to volunteer some of your time to Revere's Riders, please fill out our Volunteer Application and will get back to you as soon as we can.
Donate
Revere's Riders is a 501(c)3 non-profit organization and your cash donation is tax-deductible to the extent allowed by law. 100% of your donation goes towards supporting our programs as we are an all volunteer organization.
Sponsor
We have several ways for your business to partner with Revere's Riders and support our programs. Additionally, if your organization would like to donate services, materials, etc. to Revere's Riders, please contact us to discuss potential opportunities.
I invite everyone to learn more about our organization either by attending one of our events or by committing to help our mission as a volunteer. You won't regret it!