On June 5-6, 2015, Revere's Riders hosted a booth at the 17th annual Christian Homeschoolers of Idaho State (CHOIS) convention on the campus of Northwest Nazarene University in Nampa, ID. CHOIS promotes and assists homeschooling families, and the convention attracts homeschooling families from all over the northwest.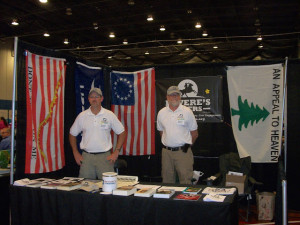 Revere's Riders contributed free tickets to an educational event which raised $100 for CHOIS, which is also a 501C3 charitable non-profit.  Our volunteers were proud to spread the word about exercising practical skills, honoring American history, and supporting civic engagement to this audience.   This was a great event for us, as CHOIS specifically has a goal to provide information to home-educating parents, the general public, the media, and elected officials regarding the Idaho Code, pending legislation, and court cases as they relate to homeschooling. It is a natural fit for supporting civic engagement in a practical way that affects families throughout the region!
Revere's Riders look forward to working with parents who are passionately involved in their children's education in the near future.  Please contact us if you think one of our program areas would be a good fit.